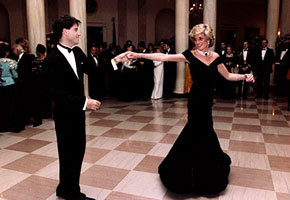 In late June, Prince William and Kate Middleton's first official overseas trip will be to Canada. It's a country with strong links to the monarchy, so a rousing reception is to be expected. In November 1985, William's parents Charles and Diana sparked off a notable case of royal fever when they visited the U.S.A. The former colony, which rebelled against the rule of King George III, raved over the royal couple some two hundred years later. Washington D.C. was described by The New York Times as "star struck" by Charles and Diana, whose visit "provided a respite from such serious but deadly dull concerns as unbalanced budgets and arms control talks."
It was the gala dinner in Washington hosted by President Ronald Reagan and his wife, Nancy, which provided the most memorable images of the trip. The Prince and Princess of Wales mixed with movie stars, singers, and politicians, and Diana took to the dance floor with the actor John Travolta, star of Saturday Night Fever. The dancing Princess, in her midnight blue velvet gown and pearl choker, captivated official Washington and captured front pages around the world. The fact that President Reagan had momentarily forgotten Diana's name during an after dinner speech was quickly forgotten.
Not for the first – or the last – time, Diana upstaged her husband. American style critics hailed her as the most charismatic fashion figure since Jackie Onassis, widow of President John F. Kennedy. Diana's every choice of outfit during the visit was faithfully chronicled, including the long-sleeved cream evening gown with a lace bodice and sweeping taffeta skirt that she wore to a black tie dinner, complete with a tiara of diamonds and pearls.
Diana visited a hospice, Charles saw the Treaty of 1812, which ended the war between Britain and the U.S. But the gala dinner was the highlight of the D.C. trip. Their three-day conquest of America's capital complete, the royal couple headed off with what the press reported was their 7,000 pounds of luggage. Despite the outbreak of royal fever in the U.S., and the celebration of the fairytale Princess, the marriage between Charles and Diana was already in trouble.
The couple separated in 1993, and Diana spoke publicly about the difficulties – and infidelity – in her marriage in a 1995 BBC documentary. The Prince and Princess of Wales divorced in 1996. Diana was mourned around the world after her death in a car crash in Paris on August 31, 1997. Affection for Diana remains strong on this side of the Atlantic, hence the interest in the wedding of her son William to Kate Middleton, who is already described as a royal style icon, much as Diana was.
Laura Trevelyan is a BBC correspondent based in New York.
Read More
Filed Under: