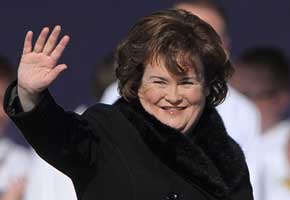 Give it up for good ol' Susan Boyle. The Daily Star reports that the Scottish chart-topping singer is cutting out all sugary goodies for Lent. Does Boyle have Jedi-like strength or something? I know of someone who has sworn of using Facebook for 40 days. But sweets? What a gal!
Boyle's efforts are for a great cause, for the 49-year-old entertainer will donate the costs of "sweets and chocolate" to the Scottish Catholic International Aid Fund's (SCIAF) Wee Box, Big Change project.
"SCIAF has always been close to my heart because my parents were big supporters and we always had a WEE BOX in our house during Lent," Boyle said via the SCIAF's official site. "It's a fantastic organization that works in some of the poorest countries in the world, providing real hope and practical help to people affected by extreme poverty or the trauma of war or natural disasters."
She added: "I'm giving up sweets and chocolate for SCIAF this Lent. I know every penny they get will be used in practical ways to help poor people support themselves in the long term so they can fulfill their own dreams of a future with respect and human dignity."
For video from the event, click here.
Read More
Filed Under: