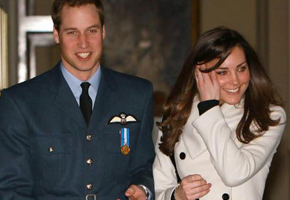 Don't expect cheerleaders and a mechanical bull, but here's where Prince William and Kate Middleton can truly let loose and show their personalities. In this week's installment of the Brides Checklist, Brides Magazine deputy editor Sally Kilbridge looks at the royal couple's evening dinner-dance.
Unlike any royal couple before them, Kate and Will have a whole second reception to organize. The first, an afternoon gathering hosted by Queen Elizabeth, probably won't veer too much from the type of formal reception this family has done for decades: receiving line, lunch for 600, toasts, cake-cutting, and Bob's your uncle.
It's the evening dinner-dance that's giving Kate and Will the chance to display some personal style. With Prince Charles shouldering the bill, an all-access pass to Buckingham Palace, and England's glossiest upper-crusters on the guest list, we're not talking about Jell-O shots and a mac-and-cheese station. Kate and Will can tap into the biggest talents in Britain: a wowsa of a party frock designed by Stella? Gordon Ramsay in the kitchen? And Coldplay working the late-night show? Why the heck not? The select 300 friends and family attending this shindig are expecting the party of the century, and this is one royal obligation the bridal couple are probably eager to fulfill. Long live the after-party!
For more Brides coverage of the royal wedding, click here.
See last week's checklist: Keeping up with the royal wedding thank-you notes.

Read More
Filed Under: