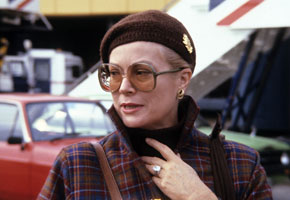 When it comes to poised, polished commoners marrying into royalty, Kate Middleton's not the first to have every detail of her wedding reported upon breathlessly by the world's press. Take Grace Kelly, the Hollywood actress whose marriage to the Prince of Monaco over half a century ago was a sensation on both sides of the Atlantic. Kate may not be a movie star, but like Grace she has been hailed as a style icon and her marriage to William may bring new popularity to the Royal family, just as the princess from Philadelphia did all those years ago.
Grace Kelly was born in 1929 into a wealthy Irish Catholic family – her uncle was the playwright George Kelly. Educated privately and in convent schools, Grace attended the American Academy of Dramatic Arts in New York City, just after the end of the Second World War. Like so many aspiring actresses in the city then and now, she worked as a photographer's model to pay her tuition. Grace's Broadway debut was in August Strindberg's The Father in 1949 — and a small film role in Fourteen Hours followed. Her career took off after she appeared as Gary Cooper's Quaker wife in High Noon — and she went on to star in 11 motion pictures. Grace's most memorable roles were in the director Alfred Hitchcock's movies – Dial M for Murder, To Catch a Thief, and Rear Window. She came to epitomize glamorous elegance on screen.
Grace traded the silver screen for the stage of Monaco when she married Prince Rainier III of Monaco.
The pair met at the Cannes Film Festival. As news reel coverage of their subsequent engagement explained, the people of Monaco were relieved. A 1918 treaty with France said the principality would lose its independence if the reigning Prince died without a male heir — so the engagement seemed to avert a possible succession crisis.
The 1956 wedding itself put Monaco on the map: the economy was largely dependent on tourism generated by the Monte Carlo casino. The presence of the Hollywood princess brought new glamour to the principality and drew in more visitors. Television coverage of the wedding of the starlet and the prince was beamed around the world; Grace Kelly's wedding gown was donated by MGM studios. Her ivory dress of silk taffeta and lace could be an example to Kate Middleton of how to appear regal without going too over the top.
http://www.youtube.com/watch?v=rZxjNmR1SVo
http://www.youtube.com/watch?v=HJXcE5KmSqM&feature=related
Grace Kelly retired from making movies when she married Prince Rainier – The Swan and High Society were her last films. She became active in charitable work, and had three children – Caroline, Albert, and Stéphanie. Like Diana, Princess of Wales after her, the life of the princess from Philadelphia ended tragically when, in 1982, she died after her car plunged off a road in southern France.
Laura Trevelyan is a BBC correspondent based in New York.
Read More
Filed Under: