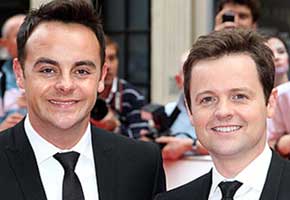 Sometimes you just want to kick back and take in a good football match. And that's what Ant McPartlin, of Ant & Dec fame, was doing on Tuesday (March 8) when a random attacker socked him in the face.
According to The Sun, a witness blamed "a teenage rudeboy" for allegedly starting the brawl. Apparently, the 35-year-old television personality, as seen on Britain's Got Talent and the UK version of I'm a Celebrity… Get Me Out of Here, was watching the Arsenal vs. Barcelona championship game at a Chiswick pub when things got surprisingly unruly.
"Ant didn't react and this bloke launched himself at him and punched him in the face," Giedrius Kudzinskas said. "Ant reeled back and then a big fight broke out as his mates came to help him. Other people jumped in and held back the other guy."
Kudzinskas also stated that the attacker was poking at McPartlin all evening, referring to his longtime comedy partner, Declan Donnelly, as "his girlfriend." Police were not called to the scene and McPartlin quickly departed.
Earlier this year, Ant & Dec were crowned the Most Popular Entertainment Presenter for a record 10th year in a row at the 16th annual National Television Awards in London.
For more Ant & Dec, here's a look at their hilarious prank on Simon Cowell, Paula Abdul and Randy Jackson during a super old American Idol audition:
Read More
Filed Under: