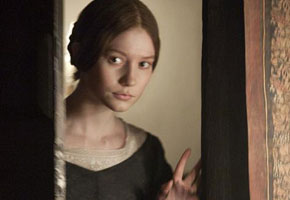 Mia Wasikowska is back in a new screen portrayal of another British literary heroine in the wake of her starring role in last year's Alice in Wonderland.
The 21-year-old Australian-born actress appears opposite Michael Fassbender in a fresh adaptation of the 19th century literary classic Jane Eyre written by Charlotte Brontë.
Wasikowska is a fan of British period novels, but for her, Jane Eyre stands apart because of its timelessness.
As she told me, "Jane is such an important character for women — and especially young women at the age that I'm at. She has an innate sense of self-respect which I think a lot of people really connect to."
There have been countless feature film adaptations of Jane Eyre but this one has Cary Fukunaga, a filmmaker not exactly steeped in the traditions of British period drama, as its director.
The American-born Fukunaga — who has a Swedish mother and Japanese father — made the acclaimed 2009 movie Sin Nombre. At the time of its release it was widely praised as a masterfully told story of three Central American teen migrants as they made a perilous trip across Mexico heading for the U.S. border.
Mia Wasikowska told me that she was excited by the selection of Fukunaga as director and that he's made the story "younger and darker."
But Fukunaga's handiwork is subtle. Anyone expecting him to have reinvented this 19th century British classic is probably going to be disappointed. His Jane Eyre is stately and traditional.
Mia Wasikowska straddles both independent and mainstream cinema. She won plaudits for her role in the Oscar-nominated The Kids Are All Right, and Alice in Wonderland — with its billion-dollar box office haul — has given her commercial credibility and an international profile. She's in demand and has no pressure to compromise. She can pick and choose her roles, a luxury afforded to very few young actors in the film industry today.
Jane Eyre opens next week.
Tom Brook's reports on cinema can be seen every Tuesday and Thursday morning on BBC America.
Read More
Filed Under: