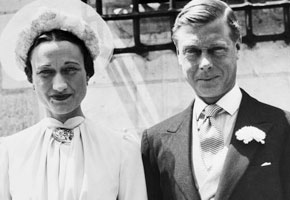 Not every royal has as public and pageant-filled a wedding as Prince William and Kate Middleton's will be. When the Duke of Windsor, formerly King Edward VIII, married Wallis Simpson on June 3, 1937, it was a rather simpler affair. Edward had abdicated from the throne in order to marry the woman he loved, the twice-married Mrs. Simpson, causing a constitutional crisis – so an extravagant wedding was emphatically not in order. No Westminster Abbey for those two.
Instead, the ancient Château de Candé in Monts, France was the setting. The headlines read "Duke Weds Mrs. Warfield": Wallis, who had divorced from her second husband Mr. Simpson shortly before a third attempt at matrimony, married Edward under her maiden name of Warfield.
Wallis didn't wear a frothy, exuberant wedding dress on that summer's day in the Lys Valley. The woman who famously remarked that "you can never be too rich or too thin" wore an elegant, nipped-at-the-waist, Mainbocher-designed gown in her signature pale blue — or "Wallis blue," as the color that matched her eyes became known. Her blue straw hat had a "halo" of pale blue tulle, The Guardian reported, and her gloves were made of the same blue silk crepe as her dress.
The Duke wore a black morning coat with a dark yellow waistcoat, a white carnation in his buttonhole. Five pressmen witnessed the couple's two ceremonies — a French civil one, followed by the marriage service of the Church of England. The noted French organist Marcel Dupré played a wedding march of his own composition, as well as the hymn "Oh Perfect Love." Outside, the New York Times reported that an old French concierge "to satisfy newsreel men in search of a picture, broke a bottle of champagne against the gate when the news that the wedding was over was flashed down by telephone to the lodge. She then carefully got out her brush and shovel and swept up the broken glass."
The five reporters assigned to cover the wedding faithfully chronicled every detail: the buffet afterward was "a friendly, informal gathering of those who had stayed by the former King's side after the December crisis in which he left the throne," wrote the Associated Press.  The Baron and Baroness Eugene de Rothschild were the last guests to arrive and the first to depart.
Wallis and Edward issued a statement to the press that day, appealing to reporters "to give them that measure of consideration and privacy which they feel is now their due." The couple left for their honeymoon in Austria, leaving the New York Times to report how "peace fell upon the Château de Candé and Monts which have never before known such doings. But will peace be with those who ask it so humbly and need it so badly?"
Read More
Filed Under: