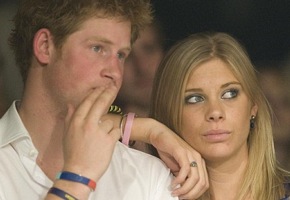 Due to her on-again-off-again relationship with Prince Harry,  Chelsy Davy has become a fascinating figure for many royal watchers. But who is she? BBC royal correspondent Peter Hunt takes a look. (Follow Mr. Hunt on Twitter.)
Right now, Prince Harry is probably feeling very pleased with himself.  He managed to throw a bachelor party for his brother, Prince William, without a single reporter getting a whiff of it until after the glasses had been cleared away.
Organizing the party is just one of the things Harry has to do as William's best man. He'll have plenty more on his plate on the wedding day itself. Yet, as he's there to support his brother on April 29, one of the questions that many people will be asking is: will Chelsy Davy be on hand to support him?
If she turns up, it'll be a sign that their on-again-off-again relationship of seven years hasn't yet run out of steam. When they were going out, they were often in different countries, indeed different continents. They've split up, more than once.
Talk of a reunion has been fueled by recent sightings of the couple in London. Yet to avoid being photographed together, they reportedly left a nightclub in the trunk of a car. If she's invited to the wedding, Chelsy Davy won't be able to travel to Westminster Abbey like that.
Prince Harry has spoken about Davy in public only once. On his 21st birthday, he described his then-girlfriend as "very special." The third-in-line to the throne went on: "I would love to tell everyone how amazing she is. But, you know, that is my private life and once I start talking about that, then I've left my own self open, and if anyone asks me in the future, then they'll say, 'Oh well hang on, you told them but why aren't you telling us?'"
So Harry is saying nothing about the current status of their relationship. They met during the prince's gap year. Davy, who's 25, was born in Zimbabwe and educated there, in England, and in South Africa. She trained as a lawyer at the same London firm that advised Edward VIII during his abdication and subsequent marriage to the Baltimore divorcée, Wallis Simpson.
There's been interest in the Davy family's connection to Zimbabwe, where her father, Charles Davy, is a millionaire safari operator. When it was alleged that his business dealings were helping to "sustain" the regime of President Robert Mugabe, Mr. Davy responded by telling one newspaper that his daughter's relationship with the prince had caused "a spate of rubbish" to be published about him in the media. "I am in business, not politics," he declared, insisting that he too had suffered under the Zimbabwean president's campaign to dispossess white farmers.
The focus on Davy's father has been just one of the side effects of her relationship with a prince. In private — I have seen her at the races at Royal Ascot — she is relaxed and at ease in the company of those who surround Prince Harry and Prince William. In public, it's less clear that she's comfortable with the attention that comes with dating a royal.
Kate Middleton has had to confront many similar issues. She's decided the gain is worth the pain. Davy, when she last split up with Harry, came to a different conclusion.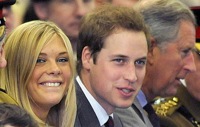 Davy has only really been in the public spotlight with the royal family twice, both times in May, 2008: first, when Harry received a medal for his service in Afghanistan, she joined royal family members at the ceremony, where she sat next to Prince William and Prince Charles; second, when Davy attended the wedding of Harry's cousin, Peter Phillips, she was introduced to Harry's grandmother, the Queen.
In the early days, the media interest in Davy was intense and, at times, intrusive.
Posses of paparazzi have stalked her, and schoolmates have said she would get upset when people tried to snap photos of her with their cell phones.
As things stand, Davy appears less willing than Kate Middleton to accept the "baggage" that comes with being by the side of a British prince. She's back in the UK, where she has trained as a lawyer — but she always has the option of returning to South Africa.
On April 29, at Westminster Abbey, the latest development in Harry and Chelsy's fluctuating relationship will take place.  As well as focusing on the happy couple, commentators will be straining for a sight of Ms. Davy sitting at a pew.
Only then will we know if Chelsy Davy has become part of Prince Harry's past, or whether she will continue to play a role in his future.
Read More
Filed Under: