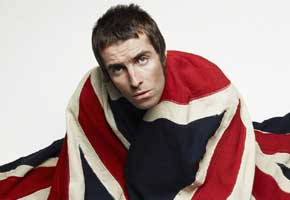 Here he goes again. In the latest issue of NME, rock 'n' roll bad boy Liam Gallagher isn't shy in confessing Beady Eye's plans for world domination.
"I want to be as big as The Beatles," the ex-Oasis star declares. "F*** being as big as Oasis, man, you know what I mean? I want to be bigger than The Beatles. That's what we're dealing with and whether we do or not — and we probably won't — but who cares? It's just the f***ing name of the game. Yes, we want to sell a s***load of records, play stadiums and inspire s***loads of kids all over the f***ing universe. Deep down that's what I wanna do… but not just yet."
Ok, there's a hint of modesty in there somewhere. Am I right? After all, Gallagher goes on to say that he doesn't "give a f***" if you buy their new album, Different Gear, Still Speeding, or not. At the end of the day, he's quite certain of one thing… and you can't take this away from him. "Beady Eye is for anyone who wants it. Beady Eye is for everyone."
And not surprisingly, the surly scalawag doesn't stop there. Gallagher recently fired shots at brother Noel as well as Radiohead. And now, Strokes frontman Julian Casablancas — the New York city indie outfit just issued their long-awaited fourth album, Angles, this week — has moved to the top of his slag-off list.
"That singer just seems like he doesn't want to be in a band with them. It's like f***ing go; bog off. It seems like it's a chore for him, you know what I mean?"
He added: "How can kids be into a band like that? How can they not get that vibe, man? It's like, f***, come over to the Beady Eye side!"
By the way, "Millionaire" will be the second single from Different Gear, Still Speeding. It drops in the UK on May 2.
In the meantime, here's a look at Beady Eye's live debut in Glasgow from earlier this month:
Read More
Filed Under: