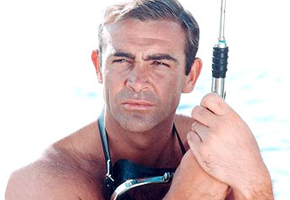 Good-looking British men are nothing new in Hollywood. While current moviegoers may swoon over Oscar winners Colin Firth and Christian Bale and look forward to seeing The Social Network's Andrew Garfield in Spider-Man, The Tudors' Henry Cavill in Superman, Inception's Tom Hardy in Warrior, and Daniel Craig in anything, these guys are only the latest in a long line of British-born hotties who've cut dashing figures on movie screens.
Consider the British leading men who found celluloid success during Hollywood's Golden Age in the 1930s and '40s: Ronald Colman, Leslie Howard, Herbert Marshall (bonus factoid: he had a wooden leg, having lost a limb in WWI), and Brian Aherne. They generally turned up in tweeds, smoked pipes and spoke in the cultured tones of the aristocratic characters they so frequently played. (Errol Flynn, the swashbuckling star of the same era who portrayed Robin Hood and other legendary Englishman on film, was actually an Australian.)
Colman was the biggest name of the four, a velvet-voiced matinee idol who had been a silent star but came into his own with the arrival of talking pictures. He played heroic Sydney Carton in A Tale of Two Cities (1937), a questing adventurer in Lost Horizon (1937), and an amnesiac in the still compelling romantic tearjerker, Random Harvest (1942). And blond Leslie Howard, who specialized in playing sensitive types — he was a forerunner to Jeremy Irons and Jude Law — gained film immortality portraying not an Englishman but Ashley Wilkes, the impossibly noble Confederate officer whom Scarlett O'Hara lusts after in Gone With the Wind (1939).  (Howard died during WWII when a German fighter plane shot down an airliner on which he was a passenger in 1943.)
In a class by himself, for sheer star wattage and career longevity, was Cary Grant. The epitome of suave sophistication, Grant could do it all: comedy, drama, romance and action hero. It would take the rest of this post to list all his must-see movies, but the top five would have to include The Awful Truth (1937), Bringing Up Baby (1938), His Girl Friday (1940), Notorious (1946), and, that romantic swoonfest, An Affair to Remember (1957).
During the 1950s, Stewart Granger, a poor man's Errol Flynn, served as a British placeholder, showing athleticism and a certain charm in a remake of an earlier Colman vehicle, The Prisoner of Zenda, and period movies like Scaramouche and Beau Brummell.
He was supplanted in the swinging '60s by a whole new crop of English hunks more comfortable playing commoners than aristocrats. Think Richard Burton, Albert Finney, and Michael Caine. Gone were the toff talk and family titles. These actors portrayed men who worked for a living, either as laborers or in middle class occupations, and yet often felt stifled by their jobs, marriages, and society at large.
Burton, who'd soon marry Elizabeth Taylor (they were the Brad Pitt and Angelina Jolie of their day), frittered away his talent between drink, jetsetting and high-paying roles in movies of dubious worth. Finney, whose Tom Jones (1963) and Two for the Road (1967) still bear watching, continues to act today. Ditto for Caine, who became an international star playing a womanizing Cockney in Alfie (1966) — his version is far superior to Jude Law's 2004 remake — and has remained one ever since.
The biggest British star of all from the 1960s into the '90s was Sean Connery, thanks to his debonair appearances as James Bond and in movies such as The Man Who Would Be King (1975), The Untouchables (1987), and Indiana Jones and the Last Crusade (1989).  The Scots-born star retained enough rough-hewn sex appeal to be named People magazine's Sexiest Man Alive in 1989 at age 59.
In more recent decades, Hollywood has been high on Brit heartthrobs Irons, Firth, Law and Clive Owen, along with the latest new crop. Time, and more movies, will tell which of them prove to be enduring stars.
Who's your all-time favorite English male star?
Ronald Colman in The Prisoner of Zenda:
http://www.youtube.com/watch?v=RqUbsRcqK-E&feature=related
Leslie Howard in Gone with the Wind:
http://www.youtube.com/watch?v=uAiChlDVcHA
Cary Grant in final scene of An Affair to Remember:
Richard Burton in trailer for Look Back in Anger:
Albert Finney in trailer for Two For the Road:
Michael Caine in Alfie trailer:
http://www.youtube.com/watch?v=tyShmXPoLJo
Dame Edna interviews Sean Connery:
Read More
Filed Under: