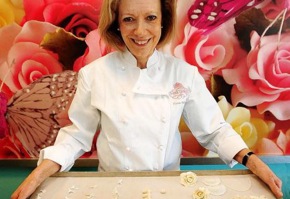 The bakers have been announced for the two cakes that will be served at Kate and William's wedding reception. The multi-tiered wedding fruit cake will be crafted by Leicestershire's Fiona Cairns. Her eponymous firm began in her kitchen and now supplies 27,000 cakes per week to stores such as Harrod's, Selfridges and Sainsbury's. The cake will be decorated with William and Kate's new cipher – thought to feature the couple's entwined initials – which will be officially released on their wedding day. Another theme will be the four flowers of the nations of the UK – English rose, Scottish thistle, Welsh daffodil and Irish shamrock. Cairns met with Kate six weeks ago at Clarence House, the Daily Mail reports. "She has guided us right from the beginning and has quite strong ideas. She knew very much what she wanted." Cairns said of Middleton. "The cake is multi-tiered, doesn't have color – it's cream and white [icing] – and it's a traditional cake but also quite delicate and modern. All the tiers will have a different theme."
• The second dessert is at William's request. A childhood favorite, it is a cake made from McVitie's Rich Tea biscuits and dark chocolate. The mixture is set in a refrigerator rather than baked in an oven. The cake for the reception will consist of 1,700 biscuits and nearly 40 lbs. of chocolate. The Daily Telegraph has a recipe for the concoction, although there are some mysteries associated with the royal version. "It has a couple of secret ingredients we can't tell you about but it will have dark chocolate, to give it a really nice flavor, and use Rich Tea biscuits that will be broken up," Paul Courtney, McVite's development head chef told the Daily Mail. "It will be decorated with chocolate display work which will be contemporary, modern and elegant."
In other royal-related news:
• Speaking of royal wedding cakes, they retain their value long after the honeymoon ends. A slice of the wedding cake from the 1923 wedding of the late Queen Mother (Queen Elizabeth's mother) to the late King George VI is expected to sell for £800 ($1,280) at auction April 2, The Mirror reports. Cake from the wedding of Prince Charles to the late Princess Diana is expected to fetch £600 ($960).
• Even more coveted than an invitation to the wedding may be an invitation to the dinner party Sir Elton John is throwing for the royal couple. The Mirror says the pop singer will hold a "star-studded" soirée three weeks before the wedding. The only known celebrities invited are the ubiquitous David and Victoria Beckham. Sir Elton and William are practically neighbors. Sir Elton's Old Windsor home backs on to the 5,000-acre deer park at Windsor Castle, one of the Queen's official residences.
• Planning on attending the royal wedding but can't find a hotel room? There may be plenty of rooms in London homes. BBC News has video which cites one survey that 25 percent of London homeowners are "thinking about" leasing a room for royal wedding watchers. The average price for a night's stay is £38 ($61.00). For many homeowners, leasing a room for the royal wedding is something of a test run for the 2012 Olympics, which will be held in London.
• As the wedding day approaches, no doubt there will be many maps of Westminster Abbey, a building drenched in history. One of the first – and best so far – comes from Hello! magazine. It has published a 3-D cut away version of the church, noting such facts that the Abbey has served as the site for 38 royal coronations since 1066. Traditionally, Westminster Abbey did not host royal weddings. It was revived as a venue for royal nuptials when Princess Patricia of Connaught (Queen Victoria's granddaughter) married Commander Alexander Ramsay in the Abbey in 1919 – the first royal wedding in the iconic church since the marriage of King Richard II in 1382.
Read More
Filed Under: