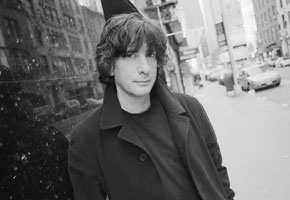 There's lots going on in Neil Gaiman's world these days. While he has countless Whovians in a chatter over his forthcoming Doctor Who episode featuring Michael Sheen and Suranne Jones, a few of Gaiman's most popular works will soon be fit for cinema or TV.
The celebrated English author recently sat down with Digital Spy to tell all. Gosh, where do we start? Well, a film version of his prized 2001 fantasy novel, American Gods, is reportedly being eyed by a "genius" director with "many, many Oscars." Gaiman said, "I'm going to be having a meeting in L.A, with the people that the film rights have been sold to. I'm going to be talking to them, find out where they're going and if there's any way that I can help."
Also in the mix is a four-part television series based on his and Terry Pratchett's 1990 book, Good Omens. And another Terry who will help bring it to life is Welsh-born screenwriter and fellow Monty Python principal Terry Jones. Gaiman is seemingly thrilled with the plan, referring to Jones' involvement as "great." But he also divulged that one of Jones' colleagues, Terry Gilliam, had previously attempted to bring it to the silver screen, however financing never panned out.
As for Gaiman's much-loved comic series, The Sandman, that's still being touted for television as well. "It's one of the jewels in DC Comics' crown," Gaiman explained. "They know that and they don't want to spend it cheaply."
Are you geeked or what?
Read More
Filed Under: