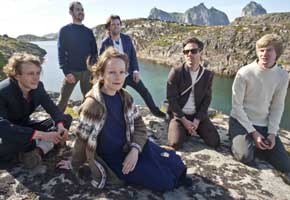 Earlier this week, Anglophenia favorites British Sea Power kicked off their first U.S. tour in three years. And in case you forgot to set your DVRs, the Brighton, England indie rock collective performed their raucous new single, "Who's In Control?" on The Late Show with David Letterman on Monday (March 21). I recently had the chance to speak to guitarist Martin Noble via email about recording their new album Valhalla Dancehall, what's in store for this round of U.S. dates, touring with Manic Street Preachers and more.
I understand that Valhalla Dancehall was recorded in an old farmhouse on Sussex Downs during a very cold winter as well as on the Isle of Skye in Scotland. Can you reveal some details about the experience?
Well, going back to the making of it, to reach the farmhouse where Scott [Wilkinson] (a.k.a. vocalist/guitarist Yan) was living, we had to get a train to the village station of Berwick, and then had to walk 30 minutes along the Vanguard Way through fields to get to the farmhouse. There were a few variations to the walk depending on weather or what you fancied. One slightly longer route took us through a nice bit of woodland, so on a sunny day we'd do that. Or if it was bag weather and boggy we'd stick to the roads. Then on arrival, we'd wake Scott up because he's been up all night howling into microphones and so on. Scott went feral after a few months there. We'd all have a cup, listen to the radio or watch some daft pop videos. We'd stay over at the house for a few days recording and sometimes playing swingball. Then we'd go home and leave Scott to howl at the moon for a few more days.
I went up to stay with [viola/keyboardist] Abi [Fry] and Neil [Wilkinson] (a.k.a. guitarist/bassist/vocalist Hamilton) on Skye for a few days too. It's beautiful and remote up there — such a gorgeous place to live. We recorded in their old Crofters cottage, which by then didn't have a toilet. We just used a bucket with saw dust. They cooked eggs on the open wood fire and listened to records on their wonky record player. Their record player slows down and speeds up continuously, so each song sounded woozy. I think that's what they'd like out records to be like, too. One day we went for a walk around the coastline of Skye and saw seals and about 10 Minke whales pass by. Incredible.
Your last album, Do You Like Rock Music, really went after the guitars. This set really goes after 'em, but with a bold mix of other instruments. From the punky energy of "Who's In Control?" and the surging brightness of "We Are Sound?" to the sprawling "Mongk II" and the lullaby-like "Baby," what inspired this collection?
I think we actually tried to broaden the sound this time. Maybe it starts off quite guitar heavy? On "Living is So Easy" the rule was to not have ANY guitars on it. But one crept in there. This time we used electronic sounds more, and more viola and cornet than we have done before. Abi even learned to play the musical saw for "Baby." I think we were just playing around with the different permutations of sounds that we could produce as a band, and keeping it fresh and interesting.
With the decision to escape the studio, what was your recording set up like?
We have always enjoyed recording and mixing our songs. A lot of a bands vision can be lost during the recording process, so we like to be more hands on. We started out recording our own B-sides, and gradually learned how to improve recording and mixing skills. We have two digital 24-tracks and a load of microphones, including two sets of old style ribbon mics. As we don't have a separate monitor room, we have to record, listen back, and then move mics around until it sounds good. Sometimes, I used to set up loads of amps and mics when playing one part, and then chose which combination I liked best. We had all the time in the world, so we'd mess around with sticking mics in washing machines and chimneys or putting them outside. We'd record drums in the kitchen or outside. Vocals were recorded everywhere; in the coal shed, pig shed, toilet, and garden. It was relaxed and fun.
The band will embark on a U.S. tour in support of Valhalla Dancehall this spring. Do you have any particular favorite American cities that you like playing? And when it comes to American audiences, might they differ from your UK fans at all?
It is a different culture out there, and it varies from state to state. It's only the language that is the same. We love loads of cities and states for different reasons. New York City is obviously an incredible place, and the warmer coastal cities of San Diego and San Francisco do brilliant margaritas. Chicago, Seattle… there are so many. The landscapes you see on drives from state to state are amazing too. It's so vast.
And with this particular tour, what should U.S. fans expect? Will the foliage make its return?
A big mix of songs, especially new album tracks. We try and play a few songs from each album now, too. I'm going to try and get foliage wherever possible. Maybe not in the big cities where there isn't much greenery. Once, we got attacked once for collecting foliage in New York. It was fair enough. It was his garden.
When you're herding yourselves into a van to play shows, what are some of the creature comforts that keep you sane? For example, I understand that Abi is a knitter extraordinaire.
Abi knits a lot, yeah. It's mostly crochet at the moment, but she keeps herself occupied with that. Reading, listening to music, staring out of the window, and generally going crackers. This time we intend to try and write music in the van. We want to write a new album in six months as the last one took ages.
And with Abi being the solo female in the band, what's the dynamic like?
It's much better. A bunch of lads on their own just turns into a zoo. I think she brings a level of calm into the place, there is less farting, and sexual frustration is kept under wraps.
The band is set to perform at a handful of British libraries coming up, which seems appropriate considering your lyrical history. "Who's In Control?" even captures your adoration ("I'm a big fan of the local library…"). Can you talk more about this?
The [British] government plans to close down a number of libraries in the country as part of their public spending cuts. We are big fans of libraries, so we wanted to do some shows to highlight this and try and help keep them open.
Speaking of books and the like, the band is known for mentioning celebrated authors or other literary bits in song. What are some of your favorite books? Any recommendations for your fans?
Looking in the van, Abi is reading the The Hound of the Baskervilles, Scott is reading Hello America by J.G. Ballard, and I'm just finishing off Down and Out in Paris and London by George Orwell. Once I've finished that I'll have read all of Orwell's books, so I feel quite proud of myself.
This summer will mark a decade since you released the epic "Fear of Drowning." Might you do anything in celebration?
We are looking at hosting a weekend of shows in May. Hopefully revisiting Grasmere Village Hall, where we had to do the bar ourselves, and pump the electricity meter with 50-pence pieces.
Leading up to the release of the Zeus EP last fall and Valhalla Dancehall in January, you guys toured the UK with the Manic Street Preachers, and I know you guys have done a few dates with them this year. What's it like teaming up with James Dean Bradfield, Nicky Wire and Sean Moore? Do you have any memorable moments?
We played the quiz game "Family Fortunes" [the British version of "Family Feud"] on tour, and I remember drunkenly giving it to Sean to play. I don't think they played it!
They dedicated "Faster" to us, which is one of our favorite songs of theirs. James has the strongest handshake I've ever known, and he gave us two bottles of Penderyn Welsh whisky, which is great stuff. I also remember the front row of fans all dressed as ghouls on Halloween, which we were relieved about as we had dressed up too.
British Sea Power U.S. tour dates:
Fri Mar 25 – Cleveland, OH (Grog Shop)
Sat Mar 26 – Pontiac, MI, (Pike Room)
Sun Mar 27 – Chicago, IL (Lincoln Hall)
Mon Mar 28 – Iowa City, IA (Blue Moose)
Tue Mar 29 – Minneapolis, MN (Cedar Cultural Center)
Fri Apr 1 – Vancouver, BC (Biltmore)
Sat Apr 2 – Seattle, WA (Neumo's)
Sun Apr 3 – Portland, OR (Doug Fir)
Tue Apr 5 – San Francisco, CA (The Independent)
Wed Apr 6 – Brookdale, CA (The Brookroom @ Historic Brookdale Lodge)
Thu Apr 7 – Los Angeles, CA (Troubadour)
Fri Apr 8 – San Diego, CA (The Casbah)
Sat Apr 9 – Tempe, AZ, (Clubhouse)
Mon Apr 11 – Marfa, TX (Padres)
Wed Apr 13 – Austin, TX (Mohawk)
Thu Apr 14 – Dallas, TX (The Loft)
Fri Apr 15 – Little Rock, AR (Stickyz Rock 'n' Roll Chicken Shack)
Sun Apr 17 – Atlanta, GA (The Earl)
Mon Apr 18 – Carrboro, NC (Cat's Cradle)
Tue Apr 19 – Washington DC (Black Cat)
Wed Apr 20 – Philadelphia, PA (Johnny Brendas)
Thu Apr 21 – New York, NY (Bowery Ballroom)
Read More
Filed Under: