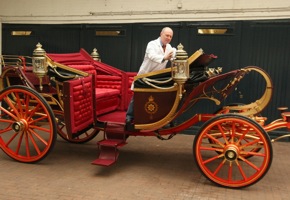 Kate Middleton will travel to Westminster Abbey in the same royal limousine that was attacked by student protesters last December. The Rolls-Royce Phantom VI, a present to the Queen from the famous car manufacturer, was splattered with white paint and had a rear passenger window badly cracked.
But the car will be in top shape for the wedding day. "It will be ready in time," Crown Equerry Colonel Toby Browne told The Press Association. "One of the problems (is) it's such a special car there are details that have to be reproduced and are not available off the shelf. The claret paint is specific to (all royal) cars and certain bits of glass had to be made, but it's really a minor detail you won't notice."
Kate and William will leave Westminster Abbey in the 1902 State Landau horse-drawn carriage, the famous vehicle used by Prince Charles and the late Princess Diana after their wedding in 1981. If it is raining, the newlyweds will use the Glass Coach built in 1881, which has a permanent roof. Prince Harry, William's best man, and Pippa Middleton, Kate's maid of honor, will follow in two separate Ascot Landau carriages with the young bridesmaids and page boys. BBC News has video on the transportation arrangements and The Toronto Star has a slide show on the royal carriages.
In other royal-related news:
• Among the things Kate no longer has to worry about are parking tickets. Last week, she parked her blue Audi A3 near the Peter Jones store in Chelsea. Instead of paying the £4 ($6.50) parking fee and displaying the receipt in the window, Kate just popped inside. Fifteen minutes later, her car was approached by one of London's zealous parking wardens, The Daily Mail reports. The warden began writing a ticket, but was waved off by a member of Kate's security detail. (Kate has had security since her November engagement announcement.) "I saw a warden arrive and he started to take down the car's details. Then an officer arrived, flashed his badge and had a chat. Whatever he said persuaded the warden not to issue a ticket," an onlooker said. The same thing happened when a second warden tried to write a ticket. Kate returned to her car minutes later (with security officer in tow), probably unaware of all the fuss.
• Jane Seymour finally got her wish. Back in February, the 59-year-old Wedding Crashers star was publicly advertising her availability as a royal wedding commentator. "Hey, I'm really cheap," she said. Now Seymour will provide commentary for Entertainment Tonight, according to The Hollywood Reporter. ET's first choice was allegedly Joan Collins, but the publication says she was dropped when she asked for a first-class L.A.-to-London ticket. ET denies the account.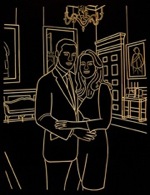 • Tributes to the royal couple keep flowing in any conceivable form or medium. This time it's toothpicks. San Francisco artist Steven Backman used 137 toothpicks to create a portrait of Kate and William. It took three weeks to glue. "It was a labor of love," Backman says. "Even though the toothpicks were mounted on a flat surface, the likeness looks three dimensional." Then there's Greg Herzog. His portrait of Kate and William is abstract, and looks a bit like a Jackson Pollock. According to Time.com, his choice of colors was deliberate. Herzog mixes, among other colors, a shade of green that suggests Kate is goal-oriented with a light blue that indicates she is opinionated. William is portrayed in a blue that means he has "good judgment" and black, which implies "willpower."
• The Daily Mail says that Carole and Michael Middleton, Kate's parents, may be house hunting. And instead of downsizing now that their children are grown, the Middleton's are thinking of trading up. Their current five-bedroom home is in a leafy suburb and is worth about £1 million ($1.6 million). Yet the Middletons have reportedly looked at Bolehyde Manor, a 14th-century pile with 11 bedrooms, three cottages, 70 acres of parkland with tennis courts, swimming pool, pear orchard, and manicured gardens with yew hedges carved into animal shapes. Price: £4.76 million ($7.8 million). In an irony lost on no one, the Manor was once the home of Camilla Parker Bowles, now the wife of Prince Charles, when she was married to Andrew Parker Bowles. "Camilla was rather amused to hear that the Middleton's had been to look round her old home," the Mail says.
• One thing Kate cannot control is the weather. And the island of Anglesey, the home of William's RAF base, has the worst weather in the UK — at least for flying. Aircraft at the base have been grounded 47 days in the past three years, according to The Press Association. The statistics were disclosed by Armed Forces Minister Nick Harvey. "Weather-related reasons which can preclude non-operational flying include low cloud base and high wind, snow and ice," Harvey said. There may be few sunny days for Kate when she moves into William's 4,000-sq. ft. farmhouse on the island.
• CNET introduces its story on the latest bit of wedding memorabilia with the following: "Dearly beloved, we are gathered here today to celebrate the union of two young people we've never met with a torrent of cheap tchotchkes." Their particular subject is Alcatel's Royal Wedding Phone. The phone has a Union Jack on the front and the royal couple's initials and wedding date emblazoned on the back. Of course, the phone includes a ring tone of the Wedding March. For those wanting to go all the way, perhaps the phone can fit inside the royal wedding phone case.
Read More
Filed Under: