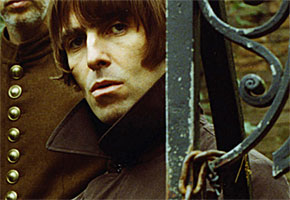 You don't say? Liam Gallagher lobbing brickbats at his brother Noel in an interview? I don't believe it. Well, Spin Magazine has done a pretty amusing chat with the former Oasis frontman, in which he engages in some extreme but predictable megalomania ("I'm in the top two human beings on the planet") and defends new band Beady Eye against accusations that they are simply Oasis minus their primary songwriter. "Course it's a new band," he told journalist Michael Odell. "We're writing great songs. We're doing things how we want them done."
But Liam saves his best lines for his older brother. Here's my favorite bile-drenched response of the interview:
What do you miss most about [Noel]?
I'm not pleased we're not talking, but I want to do things the right way — my way, for once. Noel used to have the big vision. Sometimes he treated us like his f***ing backing band. Some of the videos we did were f***ing shocking. "Lyla," for example — we look like f***ing Culture Club on s*** acid. This time 'round, we're in control of the details.
Wait. Hold up. Scratch that… this is my favorite part:
Noel had a baby in October. Didn't you send a card?
A lot of people have kids. He's not the first and he won't be the last. I wished him all the best through me mam.
That is cold, y'all. Brilliantly bitchy, but cold. (And the fact that he didn't use any F-words somehow makes it seem harsher.)
By the way, if you don't remember the video for "Lyla," here goes. Liam makes the Culture Club comparison like it's a bad thing. (OK, he's right…it is a bleeding awful video.)
Tell us: is there any hope for a reconciliation between Noel and Liam?
Read More
Filed Under: