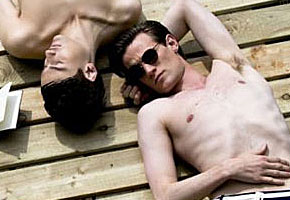 Ever the devoted thespian, Matt Smith has been giving a little more insight into why he has taken the role of the novelist Christopher Isherwood for the BBC drama Christopher and His Kind, and yes, it's partly because playing a (very) active gay man in his prime, in Weimar Germany, is light years away from a certain blue box and things being bigger on the inside than the outside.
He told the Independent that as far as he's concerned, it's all about managing public expectations: "Hopefully people see me as an actor who can adapt to different roles. And I'm very grateful for Doctor Who for giving me the platform to do it – it's one of the favourable things about having a great role like that. But hopefully, watching this, you don't see the Doctor."
Can you hear that noise? That's the sound of your Anglophenia writers trying desperately hard not to make a sonic screwdriver joke. Probably best if you read on…
Matt went on to dismiss the very thought that there could be negative press coverage over the role, saying: "I don't think it has any bearing whether I'm straight or purple or Bognor Regis or whatever; you can be anything. The point is you pretend and make it all up. I'm just an actor playing a part."
Not that it's just A part, you understand, as Matt explains: "I always want to do varied work that is challenging – and this is a great story."
"I went to meet Don [Bachardy, Isherwood's partner], who said to me that one of Christopher's most memorable qualities was the fact that he was very polite… he always made people feel at ease. I wrote it down… 'it's about manners and lust'; and from that I sort of built upwards."
Christopher And His Kind is due on British TV screens on March 19th.
Bognor Regis is a seaside resort on the southern coast of England.
What role would you most like to see Matt Smith play? Tell us here.
Read More
Filed Under: