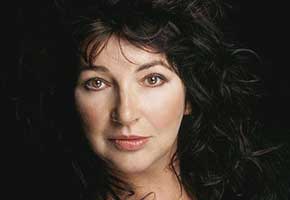 Any diehard Kate Bush fan is used to her recent sporadic releases: we've gone six years since her latest proper album, 2005's Aerial. (Think that's a long time? There was a 12-year gap between 1993's The Red Shoes and Aerial.) No longer the prolific prodigy of yore, she's devoted much of the last 20 years to raising a family. We take what we can get from her, even if it's a re-hash of past successes.
Today (March 11), KateBushNews.com revealed that the reclusive singer/songwriter/producer is releasing a "Director's Cut" album, which finds her "re-visiting" tracks from two classic albums, The Red Shoes and 1989's The Sensual World. "She has re-recorded some elements whilst keeping the best musical performances of each song – making it something of a director's cut but in sound, not vision." A new version of her Sensual World track, "Deeper Understanding," is set to be released as a single in April.
Kate is one of the few popular musicians who deserves the word "visionary," and we've rarely been disappointed with her bold choices. She commands trust. But the thought of "This Woman's Work," her high water mark on The Sensual World (if not her career), being fussed over… scares me. The ghostly pianos, Kate's anguished performance, the cacophony of wails that crescendo in the song's climax: this track is perfection in its original version. (The otherwise-respectable Maxwell damaged musical history when he put out his shrill, inferior remake a few years back. It's sad that his version has nearly 20 times more YouTube views than Kate's.)
But fans hungry for fresh work from Kate need not worry: KateBushNews.com confirms that she's working on new material. Like her brother from another Irish mother, Morrissey, Kate Bush has continued to challenge herself even into middle age, and we can't wait for her next mind-bending dreamscape.
Read More
Filed Under: