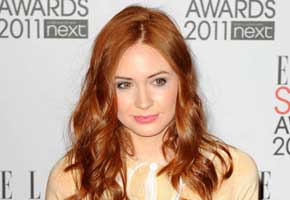 When it comes to having some of the best, Pantene-like locks in the entertainment business, Karen Gillan tops that category, hands down. And while the Doctor Who star admits to always being fond of her shiny ginger tresses, some kids in her hometown of Inverness, Scotland thought otherwise.
"I remember walking down the corridor and someone going, "Eurgh, you're tall, lanky and ginger!" I'd been itching to get out for years,'" Gillan said via The Metro.
She added: "I'd never had a problem with being tall, and in terms of having red hair I always had a belief it would benefit me in the long run."
Another famous redhead that's endured endless taunts due the color of his hair is Prince Harry. Back in 2007, he revealed that some of his Army mates gave him the "Ginger Bullet Magnet" nickname.
Hey, ginger hair rules, right? Other famous UK redhead celebs include Harry Potter star Rupert Grint, Grey's Anatomy's Kevin McKidd (who was lookin' mighty fine on The Late Late Show with Craig Ferguson on Thursday [March 10]), and comedienne and former Doctor Who star Catherine Tate.
Who's your favorite UK redhead celebrity?
Read More
Filed Under: