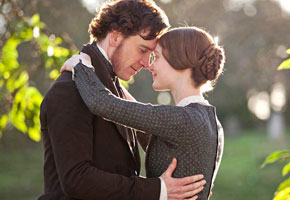 When it comes to tortured, self-loathing, sarcastic heroes, it's hard to beat Mr. Rochester. That would be Edward Rochester, the brooding master of Thornfield Hall, the gloomy manor house in the English countryside where Jane Eyre arrives as the newly-hired governess.
Jane Eyre, the classic 19th century romantic novel by Charlotte Brontë, may be named after its plain and plainspoken heroine, but it's Mr. Rochester, with his big shameful secret, who dominates the many — at least 18, going back to the days of silent film — film and television adaptations. That holds true for the latest movie version, an astringently spare retelling which opens Friday (March 11).
This Jane Eyre emphasizes the book's Gothic nature and the sharp verbal sparring between its eponymous heroine and Mr. Rochester. Here, Jane is played by Australian-born actress Mia Wasikowska (Alice in Wonderland, The Kids Are All Right) and Rochester by the swoon-worthy Michael Fassbender (Inglourious Basterds), a fast-rising star who was born in Germany but raised in Ireland.
While each gives a commendable performance — Wasikowska's Jane is smart and not to be toyed with and Fassbender's Rochester is dashing even as he barks at Jane — there's a palpable lack of chemistry. Maybe it's just that so many scenes, and this is a problem in many recent versions, are under-lit to the point of near blackout in an apparent nod to verisimilitude regarding the lack of electricity during the Victorian era.
This new version will likely have a greater impact on Jane Eyre first-timers   —especially teenagers who really, really, really want to believe that this Jane and this Rochester are meant for each other — than on audience members making a repeat visit to Thornfield Hall.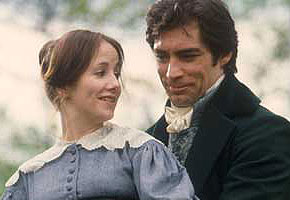 For them, the ghosts of Rochesters past will haunt the hallways. There's Orson Welles, still skinny (at least for him), in the 1944 film featuring Joan Fontaine as Jane, using his orotund voice to silky seductive effect. There's gruff George C. Scott in a 1970 TV movie version (opposite the late Susannah York), barging through Thornfield like a bull in a china shop.
More recently, Timothy Dalton, pre-James Bond, played a suave Rochester in an 11-part British TV mini-series in 1983 with Zelah Clarke as Jane. In 1997, a badly miscast William Hurt was a sardonic Rochester opposite English-born actress Charlotte Gainsbourg in a weak film version directed by Franco Zeffirelli. And in 2006, Toby Stephens (Dame Maggie Smith is his real life mom) was a ferociously fierce and yet appealingly tender Rochester (Luther villainess Ruth Wilson portrayed Jane) in a four-part BBC mini-series that aired stateside on PBS's Masterpiece Theatre.
Want another view of Rochester, a far less flattering one? For Jane Eyre completists, must reading is Jean Rhys' 1966 novel, Wide Sargasso Sea. It's a prequel, which tells the tragic story of Rochester's first wife, who is part Creole and whom he marries while visiting Jamaica. A haunting tale of colonial domination and racial inequality, Sea was made into a lush feature film in 1993, starring Karina Lombard and Nathanial Parker, and into a BBC TV movie in 2006 with Rebecca Hall — it was only her second adult film role — and Rafe Spall (whose real life father is Harry Potter cast member Timothy Spall).
Actors I wish, though they're now a mite old for the role, would have taken a whack at Rochester: Colin Firth and Alan Rickman.
Who is your favorite Mr. Rochester? Your favorite Jane?
Orson Welles in the 1944 version:
George C. Scott in the 1970 version:
http://www.youtube.com/watch?v=oSX87G55f-c
Timothy Dalton in the 1983 version:
Toby Stephens and Ruth Wilson in the 2006 version:
Toby Stephens discussing the Rochester role in BBC Breakfast interview:
Trailer for 2006 BBC Wide Sargasso Sea:
http://www.youtube.com/watch?v=xp2qLFiCLkQ
Read More
Filed Under: