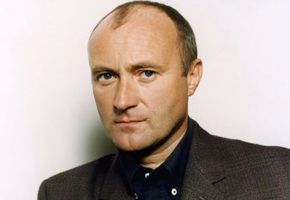 Music critics have savaged Phil Collins over the years for his cheeseball, lyrically insipid pop tunes ("Sussudio") and wan, lyrically insipid ballads ("One More Night," "Against All Odds," "Another Day in Paradise," need I go on?). But I don't think even they wanted it all to end this way.
The Genesis star and ridiculously successful '80 solo artist has decided to call it quits, citing health problems from years of playing drums. He also believes that listeners and the music industry itself have left him behind. The British singer announced his decision in an interview with FHM Magazine (via The Daily Telegraph).
The Telegraph's Murray Wardrop lists the man's ailments: "He has hearing problems, a dislocated vertebra and nerve damage in his hands, all brought on by a lifetime spent hunched behind a drum kit." But Collins also fears that he's no longer relevant to the music scene, telling FHM, "I look at the MTV Music Awards and I think: 'I can't be in the same business as this.'
"I don't really belong to that world and I don't think anyone's going to miss me. I'm much happier just to write myself out of the script entirely."
"I'll go on a mysterious biking holiday and never return. That would be a great way to end the story, wouldn't it?"
Collins says he now wants to turn his full attention to his family, including his two sons from his third wife Orianne (whom he divorced four years ago). "I'm not worried about not being able to play the drums again, I'm more worried about being able to cut a loaf of bread safely or building things for my kids," he says.
Well, to offer some proof that the man could make a decent, if not excellent, tune, I give you this. 3:16 remains one of the most thrilling moments in music history.
Read More
Filed Under: