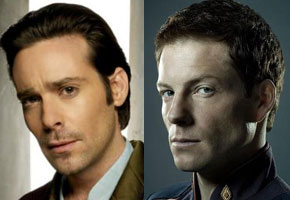 The police procedural could be the most creatively spent genre in all of television. (Yet networks continue to churn them out.) Thank goodness for Battlestar Galatica co-creator Ronald Moore, who is giving the cop drama a supernatural makeover with his new NBC pilot, 17th Precinct. The series will be set in a fictional town in which magical elements trump science. It sounds a bit like NYPD Blue meets Harry Potter, combining gritty and fanciful elements.
The Harry Potter comparison is particularly apt, as Moore is stocking his ensemble with British talent. London-born Eamonn Walker, best known for his role on HBO's Oz, will be the show's co-lead opposite American veteran actress Stockard Channing. And for support, Moore has recruited two UK alumni from Battlestar: Jamie Bamber (Law & Order: UK) and James Callis will reunite with their former boss for the series. No word on whether any of them will use their native accents. Wouldn't that be a refreshing change?
Pilot season has been a great one for talent from across the pond: Minnie Driver, Jason Isaacs, Christian Cooke, Ioan Gruffudd, and Toby Stephens have all nabbed high-profile parts in recent weeks.
Read More
Filed Under: