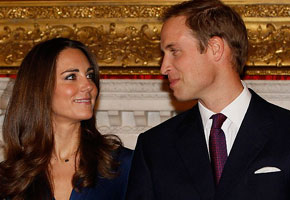 The official royal wedding website has been launched, AFP reports. It is filled with photos of William and Kate, and has links to other sites, such as Buckingham Palace and Westminster Abbey. The most newsworthy item on the site is that the daffodils have bloomed in the Green Park, which is along the processional route.
In other royal-related news:
– After publicly proclaiming that he would not be invited, Sir Elton John has revealed that he and his partner, David Furnish will attend after all. Sir Elton was even contradictory in the Canadian television interview where he revealed the royal invite. "As far as I know, I don't have an invitation," he first told Canadian television, according to The Press Association. Pressed, he then added, "Yeah, we do have an invitation."
– BBC News has a slideshow narrated by designer Sassi Holford on what is involved in producing a bespoke wedding dress. Holford designed the dress for the marriage of Autumn Kelly and Peter Phillips, the eldest grandson of the Queen.
– The National Post has a good photo of the official commemorative china for the wedding, as well as a listing of favorite foods of the royal couple. Fruitcake is not exactly popular on this side of the Atlantic, but it is often the top tier of an English wedding cake. The tradition is to save some of the fruitcake and serve it at the christening of a couple's first child.
– Will Kate promise "to obey" William? ABCNews.com examines whether Kate will make that pledge in her wedding vows. The most recent version of the Church of England's vows, released in 2000, excludes the phrase. Princess Diana, William's mother, did not use the verb in her wedding to Prince Charles in 1981. But Sarah Ferguson agreed to obey in 1986, as did Sophie Rhys-Jones in 1999.
– Among the choices facing Kate are who will be her lady-in-waiting. A lady-in-waiting is a combination of constant companion, chief of protocol and chief of staff. People magazine speculates that Kate may stick with Helen Asprey, a staffer from William and Harry's office, who is fulfilling a similar role now. Eventually though, the job may go to Pippa, Kate's younger sister.
Read More
Filed Under: