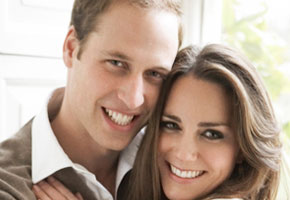 As royal wedding gifts roll in, how might the couple who has everything show their appreciation for the generosity of others? In this installment of the Brides Checklist, Brides Magazine deputy editor Sally Kilbridge suggests ways for Prince William and Kate Middleton to express their thanks.
With just eight weeks to go before the wedding, Kate and Will are probably up to their ears in wedding presents. You can bet that every English grandmum worth her crochet hook is busy knitting the perfect monogrammed tea cozy for the couple's home — no matter that they've made it known they'd prefer donations to charity.
Along with such treasure comes a weighty responsibility: thank-you notes. Although Will and Kate won't be expected to pen personal letters to their legions of well-wishers (ladies-in-waiting and other aides will shoulder the brunt of the work), the royal twosome will certainly want to express their appreciation to close friends and family. And not just for gifts. A party hosted in their honor, a cozy lunch, a tour of a lifeboat station — all call for words of thanks.
Which leads us to wonder…does royal protocol still demand an actual pen-and-ink note, or will the couple be able to use e-mail to speed the process? (Once you've sent out save-the-dates by fax, it's hard to keep the reins on tradition.) It's a question that will become even more critical as the days tick by, since the majority of gifts are sent the week of the wedding.
And then there's the dilemma of where to store all those tea cozies. Perhaps a spare room at Balmoral?
For more Brides coverage of the royal wedding, click here.
See last week's checklist: An English rose must choose her flowers.

Read More
Filed Under: