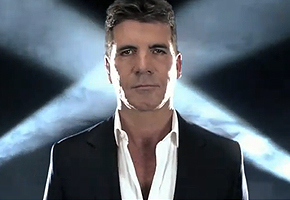 You may have seen the latest teaser for Simon Cowell's American version of his UK talent show X Factor last night during the Super Bowl. In an ad similar to rapper Drake's freaky Sprite commercial, dramatic music plays as little X Factor logos come together in the stern form of Mr. Cowell. And — dunh dunh DUNHHHH — the words "He's Back" appear in the background.
http://www.youtube.com/watch?v=QZRGdpe3CSI&feature=player_embedded
The question is: does anyone care that Simon's back? A Cowell-less American Idol is chugging along with still-extraordinary ratings. Will fans feel talent show fatigue this fall with Idol and America's Got Talent both preceding it?
Read More
Filed Under: