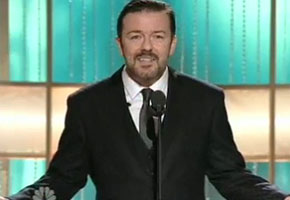 Gosh, the Golden Globes were only two weeks ago? They seem like ages ago, don't they? But I suppose there are a few out there who are still in a snit over Ricky Gervais's "mean-spirited" performance as host.
The funny this is, the British comedian has apparently been invited back by the Hollywood Foreign Press Association to play MC for a third consecutive year. Um, WTF?
According to The Guardian, Gervais recently revealed to Heat magazine that he was indeed asked back. But will he return? It's not bloody likely.
"The ratings went up again and the organizers asked me to consider a third year," Gervais said. "[But] I don't think I should."
Isn't it funny how things work out sometimes? Just a few days after lambasting Hollywood's finest, Gervais visited Piers Morgan Tonight to maintain that he "did nothing wrong" and that he wasn't going to "apologize" to anyone for delivering what he thought was a hilarious show. "They hired me for a job," Gervais previously stated. "And if they didn't want me, they shouldn't have hired me."
Do you hope Ricky Gervais changes his mind and hosts the Golden Globes next year?
Read More
Filed Under: