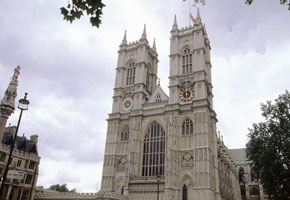 At Westminster Abbey, where Prince William and Kate Middleton are to be married, the build up to the wedding has begun. "There's a buzz about the place," Duncan Jeffrey, the Abbey's head of communications, says. "We must make sure the brasses are polished, the High Altar cloth will be laundered and ironed." No easy task, since the Altar is at least fifty feet across.
Then there's the all important order of service, the readings, and the music, which will define the ceremony. "We have to decide that with Clarence House, Buckingham Palace, Lambeth Palace, and the Bishop of London," Jeffrey explains. The service will be conducted by the Dean of Westminster, the wedding ceremony will be performed by the Archbishop of Canterbury, and the address will be given by the Bishop of London, so everyone has to know what they're doing and when. Once the music has been finalized, the choir will rehearse – but not too much. "It's important not to overstretch the voices of the young choristers," says Jeffrey.
Westminster Abbey itself has been a place of worship for more than a thousand years, since Benedictine Monks first prayed there in the middle of the 10th century. The Abbey has been the coronation church since 1066 – it's where monarchs are crowned, married and buried.  Poet's Corner is the burial place of writers, playwrights, and poets. Charles Dickens's grave is in the Abbey and William Shakespeare is memorialized there. When Prince William and Kate Middleton announced they were to be married at the Abbey, the Dean of Westminster, the Very Reverend Dr. John Hall, told the BBC it was a very special place. "It's got a great history, and it also has an extraordinary intimacy, despite its grandeur. There's a sense of being able to focus in, wherever you are, on what's really important. For the young couple it's a deeply personal thing, which is about their life together. It's also significant for the whole nation and indeed beyond, but at the heart it's a personal thing and the Abbey's the right place for that."
On the day itself, the Abbey staff will be in from 5 am BST, making the final preparations ahead of the 11 am service. "The wedding will be a global media event – the BBC will have 35 cameras around the Abbey," says Jeffrey.  More than two billion people worldwide could watch the ceremony. Westminster Abbey will hold its 16th royal wedding on April 29, and once again, the monumental Gothic building will host a historic event.
Laura Trevelyan is a BBC correspondent based in New York.
Read More
Filed Under: