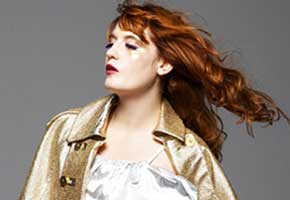 Our dear Florence and the Machine ruled 2010, that's no secret. She especially took over television with her show-stopping performance of "Dog Days Are Over" at the MTV Video Music Awards. She did it again on Saturday Night Live, and the folks at Glee also spun their own jubilant rendition in November, something which Florence called "an amazing Christmas present".
Now, Miss Flo is set to mark her TV return on Monday (February 7) on Gossip Girl. It looks like Florence provides the perfect backdrop to some drama unfolding between Blair and Nate as she performs "Cosmic Love". Don't blink or you might miss her inclusion at the start of this clip. Thanks to In Case You Didn't Know for the info:
http://www.youtube.com/watch?feature=player_embedded&v=qTlilr9p6Ss
Gossip Girl airs Mondays on CW at 9 pm ET.
Read More
Filed Under: