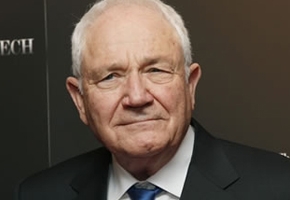 The King's Speech screenwriter David Seidler thinks Prince William and Kate Middleton can look to the marriage between George VI and the Queen Mother as a source of inspiration. He's one of a growing number of people who take this view. He says it wouldn't be a bad idea and he thinks England would welcome it.
The Oscar-nominated screenwriter believes that Prince William's great-grandparents cherished the concept of a close family. He says the couple "may take a page from that book and try to have a real family with real rapport with their children."
As he explains, "The Queen Mother came from an exceptional family. She grew up with a family that really cherished the privacy of that family and that's what she wanted to replicate — until of course her husband had to become King. I suspect that she was able to pass that on to the current Queen who has hopefully passed it on."
Seidler, who was born in 1937, says that George VI was inspirational to him in very personal terms because the screenwriter stuttered as a child. His parents held up George VI as an example for him to follow and had him listen to the King's speeches on the radio. He says it gave him hope that one day he would be able to overcome his stutter.
David Seidler has definitely triumphed — not only has he beaten his stutter, but he's now in the running for an Oscar.
Watch my interview with him:

Tom Brook's reports on cinema can be seen every Tuesday and Thursday morning on BBC America.
Read More
Filed Under: