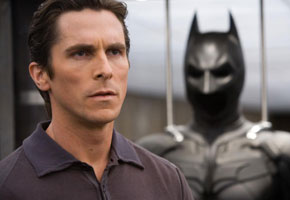 Forget all his amazing performances and that he's up for a Best Supporting Actor Oscar this year for The Fighter. Here's my favorite fact about the Welsh-born Christian Bale: his stepmother is Gloria Steinem, the feminist icon. (She wed his father, David Bale, an animal and human rights activist, in 2000; the elder Bale died in late 2003.)
Not that the actor ever, ever talks about his personal life. Bale tends to do only the minimal publicity needed for a movie, grudgingly granting a few interviews but keeping his answers terse. He lets his performances do the talking and, for more than two decades now, it has been quite a conversation.
Bale became an international movie star at the tender age of 13. Director Steven Spielberg cast him in Empire of the Sun (1987), a drama set in a Japanese prison camp during WWII. He was already a good-looking kid and he only grew more handsome as he traversed his teenage years, popping up in such forgettable films as Newsies, a 1992 musical about striking paper boys at the turn of the last century (really), and Swing Kids, a 1993 film about teenagers listening to banned swing music in Nazi Germany, which played like 90210, the Hitler Years. The cherry on the sundae for his teen heartthrob phase: he played Laurie, on whom all the March sisters have a crush, in yet another film remake of the Louisa May Alcott classic, Little Women (1994).
http://www.youtube.com/watch?v=WTOL7Cvw1bE
http://www.youtube.com/watch?v=zbbYbXS4zRM&feature=related
http://www.youtube.com/watch?v=QC2bOgb9tek&feature=related
In a clear signal that he was more than ready for grownup roles, in 1997 Bale played a frustrated suburban husband in Metroland, a British domestic drama based on a Julian Barnes novel. He was beginning to find his way as an actor, seeking out challenging roles in small, often controversial films. In 1998, he played a reporter investigating a 1970s British glam rocker in Velvet Goldmine, a film by cult director Todd Haynes (Far From Heaven). Two years later, Bale made headlines when he got himself into ab-tastic shape to play a buff yuppie who murdered gleefully in American Psycho (WARNING: Clip is NSFW), based on the Bret Easton Ellis bestselling novel. He physically transformed himself again 7mdash; losing a third of his body weight and becoming scarily skeletal — for The Machinist (2004), a dark psychological thriller in which he portrayed a factory worked plagued by insomnia.
At the same time that he was giving noteworthy performances in these quirky and little seen indie films, he remained on Hollywood's radar by appearing in such major studio action fare as Shaft (2000) and Reign of Fire (2002). He hit pay dirt when he was cast as Batman (donning the cape worn by Michael Keaton, Val Kilmer, and George Clooney) in the 2005 reboot, Batman Begins, a blockbuster hit.
In the years since, as a bona fide movie star, Bale has alternated between intense dramatic roles and action heroes. There have been good films (2006's The Prestige, directed by Batman's Christopher Nolan) and bad ones (2009's Terminator Salvation, a weak attempt to reboot the Terminator franchise). He scored a box office grand slam with his second outing as Batman, 2008's The Dark Knight. (Bale's third turn as Bruce Wayne, The Dark Knight Rises, is due next year.)
Bale's on-screen persona as an adult has almost exclusively been playing guys who suffer. Sometimes his characters suffer just because of their own emotional tsuris and sometimes because they're shouldering the weight of saving the world. (And, sometimes, in real life, Bale suffers because someone inadvertently gets in the way of his shot on a movie set, the incident which sparked his famous, expletive-filled, recorded rant a couple years back.)
His Oscar-nominated role in The Fighter is a major change of pace. Playing Dicky Eklund, a real life figure, Bale suffers, but he's also a motor-mouthed, crack-smoking, hyperkinetic bundle of tough guy braggadocio. The first time I saw Fighter, I kept thinking he was laying the actorly flourishes on way too thick. Then, at the end of the film, you briefly glimpse and hear the real Dicky and realize that Bale absolutely nailed the guy. He has Dicky's movements, his speech patterns, even his cackling laugh down in all their loosey-goosey glory.
Clearly, for Bale, acting is absolutely about being someone else. No wonder he can't understand why journalists want to know about him.
What's your favorite Christian Bale performance?
Read More
Filed Under: