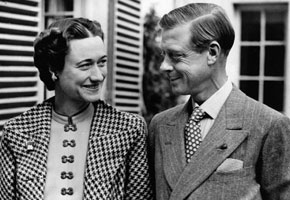 Wallis Simpson never became Queen, but the Baltimore-raised society hostess did win the heart of a King. The 1930s love affair between Wallis, the American socialite, and King Edward VIII, ended with the King abdicating so he could be with the woman he adored. In those days, it was considered unacceptable for a British monarch to marry a divorcée. Not only had Wallis already been divorced once, but she was still married to her second husband when her romance with Edward began. So what do we know of the woman who triggered an abdication crisis, in the momentous period leading up to World War II?
Wallis was born in Pennsylvania, the daughter of an unsuccessful businessman. While her parents hailed from distinguished southern families, they were the poor relations, and Wallis spent her childhood in what the historian Philip Zeigler called "cheese-paring poverty, resentfully aware that her friends could afford nicer clothes and more lavish holidays. It seems reasonable to trace to this early deprivation the acquisitive streak which so strongly marked her character."
Wallis' first marriage failed, and when married to the businessman Ernest Aldrich Simpson, she met the man who was to become her third husband – then the Prince of Wales. In a 1970 BBC interview, Wallis recalled her first impression of Edward. "I thought he was ahead of his time. I thought he had pep. I thought he wanted to establish things that the world was not ready for. "
As to why Wallis proved irresistible to Edward, the socialite Nicholas Haslam explained to BBC America's Modern Monarchy program that she possessed tremendous personal magnetism. Haslam still remembers the first time he set eyes on her. "Suddenly there was total hush in the restaurant and people dropped their spoons and their cutlery and she walked in and the entire room was silent…and she sat down and she said…'Hi, I'm Wallis.' You can't beat that."
While Edward VIII wanted to marry Mrs. Simpson, once Wallis realized that marriage to her would cost the King the throne, she tried to change his mind. But he was determined. "This was the only subject on which she was unable to dominate her future husband," observed Philip Zeigler.
Edward VIII abdicated on December 10, 1936, became the Duke of Windsor, and went into exile. Once Mrs. Simpson's divorce came through, the couple married at a French château, and lived in France and Austria until the outbreak of the Second World War. The Duke and Duchess of Windsor went to Germany together in 1937, a move which did nothing to endear Wallis to the British public, with war fears already looming large. During the war itself, the Duke was the Governor of the Bahamas, and he and Wallis lived in Nassau – from where Wallis liked to escape for much criticized shopping expeditions in the U.S.
After the war, the Windsors settled in France and lived a jet set life, socializing in Paris, New York, Palm Beach, and the Caribbean. The charismatic Wallis continued to boss her husband around. Nicholas Haslam gave an example on BBC America's Modern Monarchy program of how she spoke to the man who renounced the throne for her. "'Go and change, you look awful in those shorts. Don't do that, oh those shoes!' She was like that to him all the time. He'd run away and change – anything to please her. Anything."
Despite everything he'd given up to marry Wallis, the Duke told the BBC in 1970, "I have no regrets, I stay interested in my country, Britain, your land and mine. I wish it well." In that same interview, Wallis talked about what might have been – she'd have liked to be the head of an ad agency.
Read More
Filed Under: