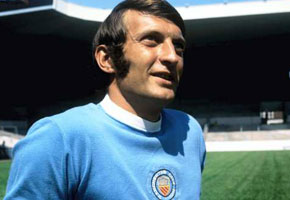 What's trending on Twitter in the UK today? It was a sad day for soccer fans in the city of Manchester, England. In lighter news, journalist and documentary filmmaker Louis Theroux returns to British television.
RIP Neil Young
Former Manchester City forward Neil Young passed away earlier today at age 66. Young had been diagnosed with terminal cancer in 2010. Most fans know the footballer best for scoring the winning goal in the 1969 FA Cup and leading the team to victory over Leicester City. Young will be missed by many devoted soccer viewers.
Young, of course, shares a name with the legendary Canadian singer/songwriter, which caused some alarm among trend watchers on Twitter.
@RMcGovernePhoto: Jesus Christ. Can we please have 'RIP Neil Young the ex footballer, not the singer' in the top trends please? Heart skipped a beat…
@lloydy654: from the red half to the blue, death of footballers unite fans despite rivalry! RIP Neil Young.
@Wanchope_Dickov: RIP Neil Young. Very, very sad news. You will always be with us, thank you for '69. #mcfc
Gary Neville
Right-back Gary Neville retired from the Manchester United football club yesterday. Called "the best English right-back in Premiere league history", Neville is one of the rare players who stayed with one club for his entire career, having played for Manchester for nearly 20 years. When asked why he didn't finish out the remaining four months of the season before quitting, Neville responded, "Sometimes you just go off gut instinct, it's the type of person I am. I felt it was right."
@rioferdy5: Gary Neville has retired from football…the best right back in premier league history #fact. Gonna be a loss to our dressing room #banter !
@SpewsAt10: I still can't believe Gary Neville has gone…he was my world, my everything.
@fabulosity1: I'm so happy Gary Neville has finally decided that he will hang up his boots. I honestly thought he never would!
Louis Theroux
Gonzo journalist and BBC America favorite Louis Theroux has a brand new documentary airing on BBC2 at 9pm tonight. The special, Louis Theroux: The Ultra Zionists, will feature Theroux meeting with Zionist settlers on the West Bank to try to better understand why they would choose to live in the dangerous region.
@dan_sully: Louis Theroux chilling with ultra-zionists in the west bank tonight people… miss it, miss out.
@_gs9: Louis Theroux's doing a show on Zionism? I need to see this
@gulam_h: Looking forward to Louis Theroux's look at Ultra Zionism. Should be very interesting.
David Molofsky is the writer of the blog, A Place To Hang Your Cape.
Read More
Filed Under: