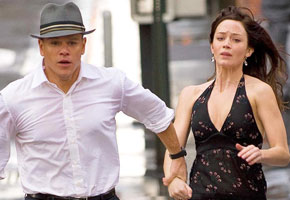 In this week's Tellyvangelist — your weekly guide to all that's British on U.S. TV — Emily Blunt gives us some juicy details about her latest film, Dominic Monaghan hints at a return to Middle Earth, and Elton John gushes about his baby boy.
All times are in EST and are subject to change.
Monday, February 7
Tune in to The Late Show with David Letterman tonight and "Stay the Night" with singer/songwriter James Blunt as he performs a song from his new album Some Kind of Trouble.
Tuesday, February 8
Emily Blunt (no relation) will be on The Late Late Show with Craig Ferguson tonight to talk about her new film, The Adjustment Bureau, co-starring Matt Damon.
Former JAG star Scott Lawrence will guest-star on tonight's episode of NCIS. While NCIS is a spin-off from JAG, Lawrence will be playing a brand new character, Navy Captain Thomas Lind.
Wednesday, February 9
Craig Ferguson will get to talk to Dominic Monaghan tonight about his rumored cameo in the much-anticipated Lord of the Rings prequel, The Hobbit.
Aim your TV to Human Target tonight as Jake Weber of Medium fame guest stars in the action-packed season finale.
Thursday, February 10
Sir Elton John will be appearing on Live with Regis and Kelly today to talk all about his new son, and hopefully to play some of his old favorites.
Friday, February 11
Need a romantic pick-me-up this Valentine's Day weekend? Watch Renée Zellwegger try to choose between Hugh Grant's Daniel Cleaver or Colin Firth's Mark Darcy in either Bridget Jones Diary on E! at 2pm or Bridget Jones: The Edge of Reason on OXYGN, also at 2pm. And we thought Bridget had to make a hard choice!
Watch Cillian Murphy scramble to find £1,000 to pay back gangster Brendan Gleeson in the comedy-thriller Perrier's Bounty today at 11:30pm on AMC.
Saturday, February 12
Need a babysitter for your pre-Valentine's Day date night? Never fear, Nanny McPhee is here! Find the magic nanny on ABCFAM at 6pm.
Sunday, February 13
Get ready to park yourself in front of the TV this afternoon for The Transporter 3 starring Jason Statham as professional transporter Frank Martin. The action starts at 2:55pm on SHOe.
What will you be watching this week?
David Molofsky is the writer of the blog, A Place To Hang Your Cape.
Read More
Filed Under: