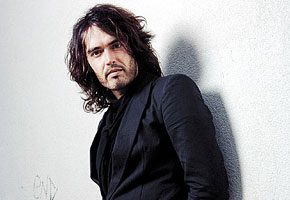 In Julie Taymor's film twist on the Shakespeare classic, The Tempest, Russell Brand gives quite the colorful performance as Trinculo. But when it comes to exploring England's beloved Bard of Avon and his extensive collection of literature, Digital Spy reports that the 35-year-old comedian has some rich ideas.
"I studied Shakespeare at school, yes," Brand told British morning talk show Daybreak this week. "I think sometimes in British schools they kind of thrust it upon you — I had some good teachers in my school, I don't want to put it down — but the way Shakespeare is presented to you, it just seems dense."
He added: "If they said to you, 'This is about sex and violence and in the time when it was written it was a very bawdy form of entertainment,' like you could go to a public execution or see a Shakespeare play."
The Tempest, which opened in the U.S. last December, hits UK theaters in March. Brand is currently overseas promoting Taymor's fantasy drama, and praised her "visceral" approach to the celebrated tale. "It's not meant to be read, it's meant to be performed and that's why it's really great to see it in this format… the funny bits are funny and the dramatic bits are intense," he said.
Brand also credits his "gorgeous" Tempest co-stars Reeve Carney (Prince Ferdinand) and Felicity Jones (Miranda) for giving the film an extra dose of sexy. "They are people that have the sort of qualities that Twilight stars have. Then you have the gravitas of Dame Helen, but she rejects that title whenever I give it to her. She is just so cool, she is a bird from Essex deep down, but she is also Dame Helen Mirren."
On Sunday (February 27), Brand will be back in the States to present at the 83rd annual Academy Awards. The ceremony kicks off at 8 pm EST on ABC.
Read More
Filed Under: