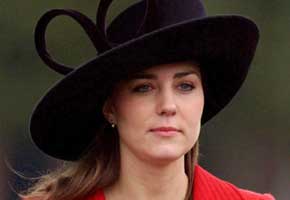 PopEater toys with the intriguing notion that Kate Middleton might not wear a white wedding dress. Guess that all depends on how you define "white." "White is a very tough color to pull off, so I'm sure both bride and designer are talking about cream and ivory as well," says a royal insider. The report closes with this tidbit from another source, one about what Kate wore to a friend's recent wedding. "[S]he wore black and no bra. Anyone that is expecting a boring dress for her big day or boring white should think again."
In other royal news:
– When it comes to dressing for his big day, Prince William doesn't have to face such dilemmas like his bride-to-be. Hello! magazine broke the news that like his father Prince Charles, Wills will be married wearing a military uniform. And while he's served in all three branches of the British military (the Royal Air Force, Navy or Army), The Press Association says William is likely to wear his RAF uniform because he is serving as a helicopter pilot with the Search and Rescue Force in North Wales. Taylors Gieves & Hawke on Savile Row, who have dressed the likes of Winston Churchill and David Beckham, will assist in creating the uniform.
– Kate's parents will cash-in on their daughter's wedding. No, they're not selling their daughter's story to the tabloids. In fact, they're just doing their job. Carole and Michael Middleton own a business called Party Pieces, which sells decorations for kids' parties. Begun in 1987, Party Pieces has made Kate's parents millionaires. The Daily Mirror reports that someone asked on Party Pieces' Facebook page if they would be selling "traditional British-themed products" for wedding day parties. The company replied, "We certainly will be doing some traditional street party bits. These will be available mid-late February!"
– They may be royals, but they still have to worry about contractors. The Daily Telegraph reports "the heart of London is having something of a face-lift in time for the Royal Wedding." Streets are being dug-up and repaved; grassy areas are being re-seeded. Meanwhile, Westminster Abbey is covered in clear sheets of plastic and scaffolds, and their roof has been undergoing repairs for the past two years. A spokeswoman says that not only will all traces of the roof project disappear by April 29, the Abbey will "be given a deep clean to make sure everything [i]s polished and dusted."
– Every wedding has them. The noisy out-of-town relations who cause trouble. The Daily Mail says anarchists are planning to disrupt the wedding with smoke bombs, roadblocks and "diversions." The anarchists, who go by the name of Network X, recently met in Manchester to hatch their plot. Reportedly, an 18-foot wooden horse will be burned with effigies of royals inside. Although there has been unrest in London recently with students protesting tuition increases, a royal wedding (and its day off from work) tends to make most UK citizens forget their differences for a day.
– It's about time someone brought this up. Yahoo! reports that the royal newlyweds should hold fast to tradition and have their wedding bands made from Clougau Welsh gold. Clogau gold has been used in every royal wedding band since 1923. In fact, all the bands came from same nugget. With the original nugget dwindling, a second nugget (36 grams, 21 carat) was presented to Queen Elizabeth for her 55th birthday in 1981. Sarah, Duchess of York's wedding band was made from this nugget as was Camilla's. Wales has three gold mines; the Clogau mine in Bontddu is where the gold used in royal wedding rings originates. It's a good thing the Queen has her stash of Clougou gold; the mine's owner estimates all of the rare gold will be gone by 2016.
– EastEnders, the long-running BBC television soap opera, has a treat in store for its fans come April 29th. The Daily Independent reports that two of the show's characters, Phil Mitchell and Shirley Carter, will marry that day. Phil will propose to Shirley next week after a heart attack. Phil, played by Steve McFadden, has been a fan favorite since 1990. Other Phil storylines have included "Who shot Phil?" and last year's battle with drug addiction.
Read More
Filed Under: