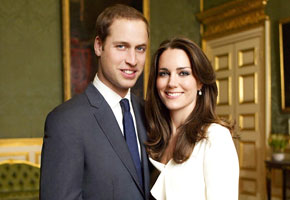 When the guest list is limited to a mere 5,000, hard choices must be made. The Sun reports that few celebrities will be invited to the royal wedding. "Prince William and Kate Middleton are to snub celebs hoping for invites to their wedding," the British paper writes, adding that celebs such as Sir Paul McCartney and Dame Helen Mirren did not make the cut. Famous faces who will attend include Sir Elton John (who previously stated that he wouldn't expect to be invited) and David Beckham (Victoria got her wish!). The couple can invite only 2,000 of their nearest and dearest. The remaining 3,000 slots are reserved for politicians, public figures and dignitaries. Although final approval likely rests with William, that list is compiled by the Lord Chamberlain's Office.
In other royal news:
– Speaking of snubs, Prince Charles has supposedly told the Lord Chamberlain's Office not to invite his cousin, Princess Michael of Kent, reports The Daily Independent.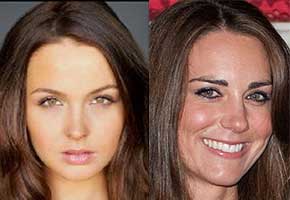 – Deadline has the scoop on who will play Kate Middleton in the Lifetime movie about the "modern-day fairytale romance." Cast in the female lead is British actress Camilla Luddington. Although Luddington does not have an extensive résumé, she has appeared on American television shows like CSI: Crime Scene Investigation and Days of Our Lives. One of Luddington's credits is the video short, Pride and Prejudice and Zombies: Dawn of the Dreadfuls. Judge for yourself whether Luddington looks the part. As previously reported, William will be played by Nico Evers-Swindell and Prince Charles by Ben Cross. Production is expected to begin next week so the movie can air near April 29th.
– The BBC reports that the Royal Borough of Windsor and Maidenhead has produced a leaflet with details on how to organize a royal wedding street party. Although it only applies to festivities in the Borough, which is about 25 miles east of London and home to Windsor Castle, it contains worthy advice for any gathering. "Check that the date of your street party doesn't clash with any other events in your area," the leaflet instructs. It also reminds potential revelers that if their celebration includes fireworks, they should first check with Environmental Protection. "You must have contingency plans in place in case of accidents, medical emergencies, fire, etc."
– The Windsors will not be the only royal family causing a stir at the wedding. Japan's Imperial Household Agency has announced that Crown Prince Naruhito and Crown Princess Masako may attend. If Princess Masako arrives in London, it will mark one of her rare public appearances.
– And in case Kate can't figure out what to wear on her honeymoon, Victoria Beckham is here to help. According to The Daily Star, the former Spice Girl is set to give Kate a suitcase full of dresses for honeymoon wear. Victoria is a designer who "admires Kate's natural sense of style."
Read More
Filed Under: