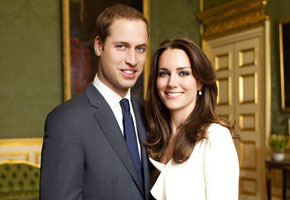 Diamonds may be a girl's best friend, but sapphires are what they want right now. Since the debut of Kate Middleton's 18-carat sapphire engagement ring in November, sales of the gem have set records, Forbes reports.
Michael Arnstein, president of the Natural Sapphire Company, says sales are up 300 percent. "[She's] a walking, talking fashion advertisement for the gemstone," says Arnstein. In case you're wondering how much a sapphire can cost, Christie's sold a 22.66-carat stone for $3 million in 2007.
In other royal news:
– Scrooge is only supposed to come around during Christmas, but it looks like he's lingered. A union is asking two manufacturers to reconsider their decision to treat April 29th as an ordinary work day, The Daily Telegraph reports. Although the government has designated the wedding day as an official bank holiday, many workers have contracts specifying their days off, and some employers are sticking to the letter of the agreements. Similar grumbling is coming from hospital staff in Leeds, according to the Yorkshire Evening Post.
– Esteemed British designer Bruce Oldfield is playing cat-and-mouse with the press. According to some reports, Oldfield, a longtime clothier for the late Princess Diana, is supposedly the designer of Kate's wedding gown. Others say the designer is a relatively unknown British woman. Of course, Oldfield is mum on whether he's the chosen one, but according to Britain's Daily Express, he is making some not terribly surprising predictions. Among them: Kate will wear a veil, she will wear a different dress for the ball at Buckingham Palace and that the wedding dress will have sleeves. Oldfield even offered this pedestrian insight, "[Whatever] happens, there's going to be a sharp intake of breath."
– Wedding souvenirs are available in just about any form imaginable. However, for a souvenir to be considered "official," it must secure The Lord Chamberlain's approval. One souvenir that will not receive the Lord Chamberlain's imprimatur: T-shirts. Buytshirtsonline.co.uk is proudly touting their rejection, noting that anti-monarchist T-shirts are cropping up. At the very least, the T-shirt industry is hoping the wedding is good for business. According to a press statement, "a boost to the T-shirt printing industry would be more than welcome particularly in the light of the current cotton crisis that is pushing the price of T-shirts sky high."
– House star Hugh Laurie is rescheduling the issue date of his debut album because of the royal wedding, ContactMusic reports. "It was going to be released at the end of April, but it collided with a royal wedding, so obviously we thought, 'We don't wanna bump them off the front page… so we'll push it a bit later,'" Laurie said.
– As we mentioned yesterday (February 7), those with the name Kate, Catherine and William could get free admission to a race track. Today's news for namesakes is that 15 Kates and 15 Williams can ride two new trains on a rollercoaster for free in Blackpool, England, according to a local English website, Weston-super-Mare People. It helps if you enjoy your g-forces and vertigo before lunch. The free ride is set for Wednesday (February 9) at 10 am.
Read More
Filed Under: