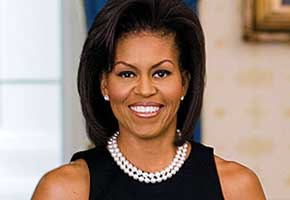 Every news organization this side of the Atlantic is reporting that President and Mrs. Obama have not received an invitation. On Wednesday (February 9), Michelle Obama was asked on LIVE! with Regis and Kelly if she thought she would be invited. The U.S. First Lady said, "You know what? Marriage is a personal, private thing. They should invite who they want to invite. And if I get invited, I'll go. Sure, why not?" USA Today recounted.
There is some precedent for the first couple to snag a royal invite. President Ronald Reagan and his wife, Nancy, were invited to Prince Charles' and Diana's wedding in 1981, and Nancy did go. But as we reported in November, it's highly unlikely that our 44th President will be in attendance on April 29.
http://www.youtube.com/watch?v=Q2ZlYJRXQZI
In other royal news:
– The rumor du jour in the wedding dress designer sweepstakes is Catherine Walker & Co. This report comes from British Vogue, which has a nifty slide show of the work of all the designers mentioned so far. Catherine Walker — who passed away last September after battling cancer — was a favorite of Princess Diana and a longtime friend of the late Princess of Wales. In fact, Diana is buried in a black Catherine Walker dress.
– The cream silk "Nannette" dress that Kate wore in one of her official engagement photos is now available in the U.S. — sort of. British retailer Reiss, which made the dress, has shipped 1,000 copies of the frock to the States, Reuters reports. It's even priced at a relatively affordable $310 (£193). But forget about getting your hands on one, as the dresses have long since sold out. "All the dresses that we received are being fulfilled via a waiting list that we have in store," said Lyndon Mackenzie, Reiss's New York general manager. This marks the fourth run of the dress; all previous editions flew off the shelves.
– In what was supposedly one of her first public outing in weeks, Kate was reportedly spotted having lunch with her future stepmother-in-law, Camilla, in a posh hotel restaurant on Wednesday (February 9), says People. The ever-dutiful Kate had a notebook in hand, perhaps to better remember royal tips from the Duchess of Cornwall.
– Those spoilsports at MoneyRates.com weigh-in with a Valentine's Day tip: "Don't Plan a Royal Wedding." They note the Windsors can afford to spend an estimated $16 million (£9.9 million) on Kate and William's wedding, but it might not be sensible for commoner couples to shell out $24,000 (nearly £15,000), which was the average cost of a wedding in 2010. Forget the sapphire the size of a postage stamp, forget the custom-made wedding dress, and forget the strolling violins at the reception — go with a DJ.
– As careful readers of The Royal Wedding Insider will recall, the Lord Chamberlain is in charge of approving all official wedding merchandise and as reported on Tuesday (February 8), they voted thumbs down on T-shirts. But dishwashing liquid apparently makes the grade? MarketingWeek reports that Fairy Liquid, a dishwashing liquid well-known in the UK, has won the Lord Chamberlain's approval to produce a commemorative bottle celebrating the royal nuptials. Soap vs. T-shirts? Really?
– It's probably not a close enough connection to get an invite, but Ellen DeGeneres is Kate's 15th cousin. Christopher Child of the New England Historic Genealogical Society says DeGeneres and Middleton share a direct family line connecting them to President George Washington, Boston's WCVB-TV reports.
– Bids were due Tuesday (February 8) for the chance to be selected as the official champagne of the royal wedding. Only sparkling wine produced in the Champagne region of France can be designated "champagne." Pol Roger, Perrier Jouet and Bollinger all submitted bids, according to NBC affiliate, Denver's 9News. Bollinger was quaffed at Charles and Diana's 1981 nuptials.
– British newspapers are rife with reports that Prince Harry may have rekindled his on-again off-again romance with Chelsy Davy. Daily Telegraph columnist Bryony Gordon, for one, is delighted. "For as lovely as Kate Middleton is, one can't imagine her piling into the back of a vehicle after five hours drinking cocktails on the King's Road. Or, as Chelsy did last month, partying until 7 am and smoking like a trooper."
Read More
Filed Under: