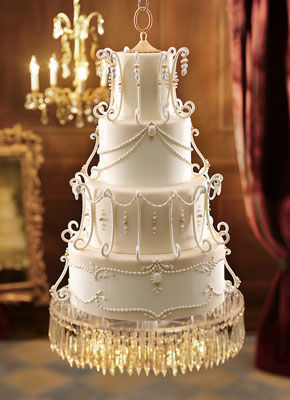 There's no institution more American than Betty Crocker. America – the land that successfully rebelled against a British king. As usual though, history has taken a back seat to good 'ol Yankee commerce and marketing. Using the theme, "something old, something new, something borrowed, something blue," the Betty Crocker folks have created four "one-of-a-kind" wedding cakes. Visitors can vote on their favorite. (We like the one suspended from the ceiling.) On a more practical note, there are also recipes for wedding-watching parties, such as "Bacon and Egg Savory Cupcakes." I think I'll pass.
In other royal-related news:
– Many couples believe their wedding spending is aiding the economy. But how many couples can boast that their nuptials may rescue an entire industry? BBC News reports that England's china houses claim that the sales boost from royal wedding commemorative items may save their line of work. Royal Crown Derby Shop Manager Trevor Warner shows the BBC crew the manufacture of a mug, including a room-sized kiln that takes 12 hours to reach the proper temperature, and the application of 22-karat gold.
– Keep an eye on the mail. ABCNews.com reports that gold-embossed handwritten invitations to the royal wedding were sent Thursday (February 17). Don't get too excited if you're one of the 1,800 or so plebes asked to attend the Westminster Abbey ceremony. The important invitation is to the evening reception at Buckingham Palace. Only 300 people will celebrate with the newlyweds. Hate to ruin anyone's expectations, but if a save-the-date fax did not arrive from the Queen in January, odds are you were somehow overlooked.
– Here's one way to guarantee you won't receive an invitation. A 19-year-old Mexican woman demanding an invite is in the ninth day of a hunger strike, AFP reports. "I promised myself I would go to the next royal wedding," said Estibalis Chavez, who is parked in a tent outside the British embassy in Mexico City. "I intend to fight until the very end… there is no turning back."
– Although several breweries are blending special beers for the royal wedding, Banks's, in Scotland, is seeking help from its customers. The Express & Star is asking readers to propose names for Banks's run of royal wedding ale. The winner, of course, gets a free case.
– Leave it to a bunch of insurers to ruin the party. A U.K. insurance policy website points out that most couples have little or no insurance for their engagement rings. The site estimates that Kate Middleton's engagement ring – originally bought by Prince Charles for Princess Diana for £300,000 ($487,000) – is probably now worth about £1 million ($1.6 million). The average British couple spends slightly less, about £1,400 ($2,300). But since a typical homeowner's policy only insures items with a value up to £1,500 ($2,400), the insurers are recommending – what else? – couples buy additional insurance for engagement rings. It is estimated that ten percent of women lose their engagement rings. No word on the chances of Kate misplacing her rock or on Prince William's homeowner's policy.
Read More
Filed Under: