Is this the story of Johnny Rotten? Even former Sex Pistol John Lydon (aka Johnny Rotten) has a soft spot for Kate and William. A staunch anti-royalist, Lydon snarled a punk version of "God Save the Queen" back in 1977.  But love conquers all, even John Lydon. "They seem very much in love. They actually do, so I'm really all right with that. I approve of them," Lydon tells the Sunday Mirror. He even approves of William and Harry serving in the military. "They are brave, those young ones, and I really look up to that," Lydon says.
In other royal-related news:
– As previously reported, Kate and William invited John Haley, the proprietor of their favorite pub in Kate's hometown, the Old Boot Inn. Now it has emerged that Kate's local mailman, butcher and convenience store owners have secured invites as well. The Daily Mail reports that these figures from her Berkshire village will mingle with the dignitaries at the Westminster Abbey ceremony. Chan Shingadia, who runs the convenience store with her husband Hash, reveals that William often buys mint Vienetta ice cream, a ribbon-like confection. Chan Shingadia has also received permission from Mike Middleton, Kate's father, to wear a traditional Indian sari to the wedding.
– Call it a wedding warm-up. The marriage Saturday (February 26) of Lady Katie Percy and financier Patrick Valentine brought out many of the key figures in Kate and William's wedding. In attendance were Pippa Middleton, Kate's younger sister and maid of honor, and Chelsy Davy, Prince Harry's on-again, off-again girlfriend. Also in attendance was  three-year-old Grace van Cutsem, William's godchild and one of Kate's bridesmaids, The Telegraph and the Associated Press report. The reception was held at Alwick Castle, better known as the Hogwarts school in the Harry Potter movies.
– BBC News has video of Kate, William and Harry signing a condolence book for the victims of the recent New Zealand earthquake.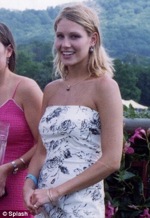 – The Daily Mail has an interesting look at Kate and William's exes. Generally speaking, each remains on good terms with their fomer flames. One of them is an American. Anna Sloan, a department store heiress from Nashville, dated William briefly in 2004. She now lives in London and runs an interior decorating firm with Emilia d'Erlanger, one of Kate's close friends. Sloan is expected to attend the wedding.
Read More
Filed Under: