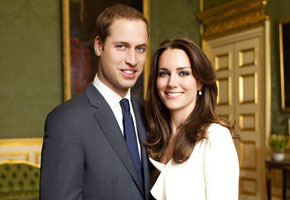 After the wedding dress has been put away and the reception hall emptied, Prince William and Kate Middleton will assume the many responsibilities of royal marriage, including producing a family that will help to ensure the survival of the monarchy. BBC royal correspondent Peter Hunt explores the rules and complexities of raising heirs to the British throne. (Follow Mr. Hunt on Twitter.)
In April 1926, Sir William Joynson-Hicks had a lot on his plate. The senior member of the British government was dealing with a bitter dispute in the coal mines. On top of that, "Jix" as he was known, received a call, very early one day, to attend a royal birth.
He did his duty. The politician was there when the Duchess of York, later Queen Elizabeth (portrayed by Helena Bonham Carter in The King's Speech) gave birth to a daughter who would become Queen.
The reason why a Member of Parliament, as well as a midwife, was present on such an occasion goes back into the mists of time when it was the custom for government ministers to hang around the private apartments of royalty, at moments of special significance such as births, marriages, and deaths.
It was a tradition, with no legal requirement, which ended in 1948 with the birth of the then-Princess Elizabeth's first child, Prince Charles. As a result, Kate Middleton will be spared the potential indignity of a politician in the room, as, when, and if, she produces an heir to the British throne.
Related story: Betty Crocker bakes cakes 'fit for a royal wedding'
It is the great unsaid. As one historian put it, the first "duty and ambition" of someone in Miss Middleton's position is to get pregnant — ideally, of course, not before her wedding day. Marriages and births are crucial to the very survival of the ancient institution.
Interestingly, one official has suggested to me that if the couple were to adopt, any child would be legitimate and entitled to their position in the order of succession — though eyebrows might be raised about the "weakening" of the royal blood line. This is unchartered territory for the Windsors.
When a royal is born, the parents don't just have to think about names — like the rest of us — but also titles. This is where it gets mind-numbingly complicated. George V decreed in 1917, that the titles "Royal Highness" (HRH),  "Prince," and "Princess" should be restricted to the children of the sovereign; the children of the sovereign's sons; and the eldest son of the eldest son of the Prince of Wales. So, if William's first child is a boy – he'll be a prince.
Related story: Brides Checklist: To obey… or not to obey?
Confused?  It gets worse. Under the 1917 decree, as the daughter of a King, the present Queen's husband and all her children were left out in the cold. So, the rules were amended and they were brought back into the fold of royal highnesses, princes, and princesses.
With me so far? We have just one more "titular" hurdle to clear. Despite this tinkering in the '40s, the children of a sovereign's daughter have no titles. So, Princess Anne's offspring are plain Peter and Zara Phillips — and all the better for it, their mother would probably argue.
Oh, and Prince Edward went and further muddied the waters. On his wedding day, it was announced that his children wouldn't be HRH and would instead carry a courtesy title. They are known as Viscount Severn and Lady Louise Windsor — she, of course, will be one of Kate's bridesmaids.
We may get a clue as to how Prince William intends to navigate this potentially confusing minefield on the wedding day. It's the occasion when the Queen traditionally confers additional titles. If William chooses to remain "just" a prince, it would signal his continuing desire to keep things reasonably simple. As it is, he asks people to call him William and not "Sir" or "Your Royal Highness."
Related: Westminster Abbey Buzzing Along with Royal Wedding Preparations
His father, Prince Charles has acquired seven extra titles over the years; his uncles, Andrew and Edward, three and two respectively — and they were both also made knights in 2003.
All we know for certain, as I mentioned earlier, is that if William's first child is a boy, he'll be a prince. And, of course, men overtake women in the pecking order of succession to the throne, even if the women are older. There's been much talk about changing these centuries-old rules, but little action.
William and Kate's offspring will quickly acquire names, titles, and godparents. Royals tend to ask relatives and close friends to take on these roles. However, the Queen's cousin, Prince Michael of Kent had Franklin D. Roosevelt as a godfather. Then eighth in line to the throne, the prince was born on the Fourth of July in 1942 and the President agreed to do this in an Independence Day gesture of wartime solidarity.
All of this — and the education of any children (William and Kate are likely to favor fee-paying schools over those provided by the state and attended by the vast majority of the population) — is for the future.  The wedding and the honeymoon comes first. When Prince William was asked in his engagement television interview whether he wanted lots of children, he replied, "I think we'll take one step at a time.  We'll sort of get over the marriage first and then maybe look at kids. But obviously we want a family and so we'll have to start thinking about that."
Join BBC America's Royal Wedding Facebook page: http://www.facebook.com/TheRoyalWedding
For more royal news, follow BBC Royal Wedding on Twitter: http://twitter.com/bbcroyalwedding/
Read More
Filed Under: