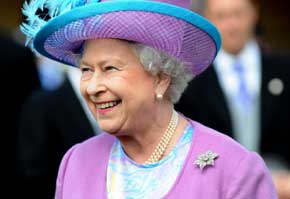 According to Deadline, Queen Elizabeth recently took in a "private viewing" of The King's Speech, the historical drama showcasing her late father, King George VI, and his struggles with a speech impediment. She apparently "enjoyed" it and screenwriter David Seidler was thoroughly "humbled" with the news.
"To learn Her Majesty has seen the film, and was moved, in turn moves and humbles me greatly," Seidler said in a press statement. "When, thirty years ago, the Queen Mother asked me to wait and not tell this story during her lifetime, because the memory of these events was still too painful, I realized the depths of the emotions involved. Now this story has been written and filmed with a great deal of love, admiration, and respect for Her Majesty's father. That Her Majesty has responded favorably to this, is wonderfully gratifying."
As previously reported, the Tom Hooper-directed period film tops the Oscars nominations list with 12 and leads the BAFTAs field with 14 nods.
In other British Monarchy news, the Queen celebrated her 59th year on the British throne on Sunday (February 5). To mark the occasion, she and Prince Philip headed to church near the royal family's estate in Norfolk, England.
Read More
Filed Under: