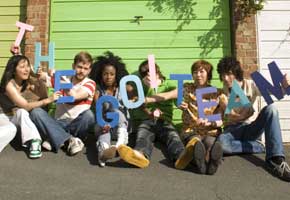 The Go! Team returns after a near-four year hiatus to release its third studio album, Rolling Blackouts, out today (February 1) in the U.S. via Memphis Industries. Not surprisingly, the lively 14-song set will instantly remind you why first fell for the Brighton, England collective's effervescent indie rock blend in the first place. Their vibrant mesh of samples are, of course, perfectly intertwined throughout. However, Ian Parton and Co. actually went the traditional route this time and penned a chunk of these feel-good tunes on an acoustic guitar. From there, the band's eclectic hodgepodge received the refresher it needed in order to successfully evade a rehash.
From the boastful brass arrangements of "T.O.R.N.A.D.O." and the twee-pop merriment of "Ready to Go Steady" to the ultra-indie tresses of "Buy Nothing Day" and the album's reverb-y title track, both featuring Best Coast's Bethany Cosentino, Rolling Blackouts captures the Go! Team's impeccable prowess in consistently creating the ultimate dance-party album. Thank goodness they're still here… for now. Parton and bandmate Sam Dook revealed to BBC Radio 6 this afternoon that Rolling Blackouts could very well be the last hurrah.
"T.O.R.N.A.D.O.":
"The Secretary Song":
In other music news:
– Former Sex Pistols frontman John Lydon always has a knack for keeping his name in the headlines. This time, the outspoken Mr. Rotten has gone after Jay-Z for being a "parody." The two are vying for Best Book trophy at the Shockwaves NME Awards. (NME)
– Sick of the winter cold yet? Why not book a trip to Miami Beach for the Ultra Music Festival? A host of Britain's finest such as Underworld, The Chemical Brothers, and Duran Duran will headline the three-day dance extravaganza kicking off March 25th. Erasure, The Klaxons and Welsh DJ legend Sasha are also on the bill. (Consequence of Sound)
– The Clash's epic 1979 LP, London Calling, is coming to Rock Band, woo hoo! Starting today (February 1), fans can download it for their Xbox 360, PlayStation3 or Wii via the Rock Band 3 music store. How excited are you to riff out to "Spanish Bombs" and bust some sticks to "Clampdown?" (Billboard)
– Sir Elton John — who wants to give Glee a shot — is teaming up with Lee Hall, the scribe behind his Tony-winning Billy Elliot musical, to pen a Moulin Rouge-like biopic. "I'd just like to make a really great film about my life story," John recently told BBC Radio 2's Chris Evans. YES! (The Guardian)
– Ben Raine and Nina Wagner make up the stylish raw power of The Unkindness of Ravens. But don't think the London duo wants anything to do with Britpop of yesteryear. Instead they grab a hold of garage rock's dirtiest bits and touch 'em up with a dash of goth-tinged synths. Or as they state on their Facebook page, their mix is a "stripped down low slung minimalist electro rock with soul." We totally dig. And we also adore their fantastic name, which could very well be borrowed from British author Ruth Rendell's 1985 crime novel. For more, check out The Quietus.
"Dead Air":
What are you listening to this week?
Read More
Filed Under: