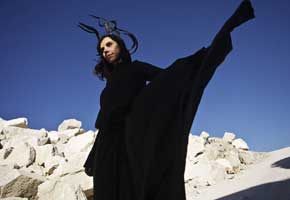 At last, Polly Jean Harvey's Let England Shake is here. Her first for Vagrant Records, the dozen-song set was recorded with her longtime collaborator John Parish, Mick Harvey and producer Flood in a 19th century church in Dorset, England. Picturing that setting with Harvey's exquisite word play makes for an incredibly captivating and organic exploration of her homeland.
"I tried to use words that were dealing with the emotional quality that any human being could recognize in the way that they felt about their country," the English songstress recently told NPR's Fresh Air. "It's to do with the world we live in. That world is a brutal one and full of war. It's also full of many wonderful things and love and hope. And I tried to offset the brutal language with very beautiful music." Beautiful, beautiful job, m'dear.
"The Words That Maketh Murder"
"Let England Shake"
In other music news:
– There's been non-stop chatter across the web about a band called Yuck. Yep, that's their name and Rolling Stone loves 'em. The BBC plucked 'em early for their Sound of 2011 list, too. We're crushing hard for this London fivesome, which draws from indie rock's purest threads of the '90s for a blissful noise-pop jumble, as heard on their self-titled debut out today on Fat Possum.
"Georgia"
– As we mentioned yesterday (February 14), Radiohead will drop their eighth LP, The King of Limbs, via digital download this weekend. We couldn't be more excited for this and the forthcoming "Newspaper Album" that's set to include "many large sheets of artwork" and "625 tiny pieces of artwork." And while we have to wait until May 9 for that extra special package, the band says The King of Limbs will arrive on CD and vinyl on March 28. Did you pre-order your copy? (NME)
– Now that the Radiohead album is done, guitarist Jonny Greenwood will return to his soundtrack work. Next up, he'll compose a score for Lynne Ramsay's fall drama, We Need To Talk About Kevin, starring Anglophenia favorite Tilda Swinton. Greenwood's score for Paul Thomas Anderson's 2007 period film, There Will Be Blood, was incredible. It also earned him an Ivor Novello trophy for Best Original Score. (The Hollywood Reporter)
– As confirmed in Today's UK Twitter Trends, Coldplay will indeed headline this year's Glastonbury lineup. But concerts aside, the band is still chipping away at their fifth studio album with Brian Eno and 2011 Brit award winner Markus Dravs. Apparently, Ash's Tim Wheeler has been hanging out in the studio, penning tunes with the Grammy-winning quartet. Could a duet be in the works? (The Daily Telegraph)
– RIP Sir George Shearing. The renowned London-born jazz pianist behind the widely popular song "Lullaby of Birdland" passed away from heart failure on Monday (February 14). He was 91. (BBC News)
– Glasgow's Mogwai also drop their seventh studio full-length, Hardcore Will Never Die, But You Will, today on Sub Pop in the U.S. Check out the hypnotic "Mexican Grand Prix" below:
Read More
Filed Under: