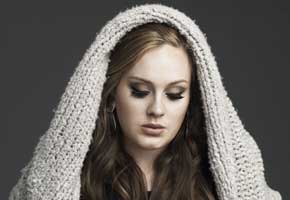 While the rest of the world has been enjoying it for nearly a month, Adele finally brings her long-awaited second album, 21, to U.S. shores today. And once again, the English singer/songwriter with the great, smoky soul voice sorts through various tales of love gone wrong.
"It broke my heart when I wrote this record, so the fact that people are taking it to their hearts is like the best way to recover," Adele tells MTV. "'Cause I'm still not fully recovered. It's going to take me 10 years to recover, I think, from the way I feel about my last relationship. It was the biggest deal in my entire life to date."
Since her magnificent delivery of "Someone Like You" at the 2011 Brit Awards last week, Adele has also reclaimed her rule over the UK album and singles charts. Not only did the piano-driven balled soar 46 spots to land at No. 1, BBC News reports (via The Official Charts Company) that the 22-year-old Londoner has been crowned "the first living artist to simultaneously score two top five hits in both the UK singles and albums charts since The Beatles." Brilliant first single "Rolling in the Deep" hangs on at No. 4, while 21 and her Grammy-winning debut album, 2008's 19, occupy the first and fourth positions, respectively. You've done good, girl!
Last night (February 21), in her first of three U.S. television performances this week, Adele took to The Late Show with David Letterman to perform "Rolling in the Deep":
In other music news:
– Also out this week is First Wave, a hypnotic, hip-hop infused mix of ticks, blips, and werps from Scottish-based producer Dam Mantle (born Tom Marshall). "Grey" and "Movement" are just a few standouts exemplifying his superb electronic tinkering. After spending much of 2010 touring Europe with Toro Y Moi and Gold Panda, Dam Mantle will kick off his first-ever U.S. run at SXSW next month.
– It looks like Coldplay will be making the UK festival rounds this summer. They're already set to dominate the Pyramid Stage at Glastonbury in June, but they'll headline T in the Park in Scotland in early July. Other UK acts such as Arctic Monkeys, Pulp, The Vaccines as well as Brit Award winners Tinie Tempah and Jessie J are also scheduled to perform. (BBC Newsbeat)
– When it comes to paying it forward, Kate Nash is doing something for the aspiring rock'n'roll females out there with her Rock and Roll For Girls After School Music Club. "So the basic idea is I want to go into schools, I want to start an after-school music club with girls, and do workshops with them using video and bringing in other female artists that I know that can come and play live for them to inspire them, and just open that door," Nash says. "If they don't want to take that route, then fine, but if they do, I want them to at least be aware that it's there and that there is that option…" (Buzzine)
– Morrissey fans, unite! Everyone's favorite English miserablist has another greatest hits package in the works. The 18-song collection, The Very Best of Morrissey, will drop on April 25 in the UK, featuring some of the Mozzer's finest stuff from the HMV and Parlophone years. Rare "Glamorous Glue" seven inches, a host of B-sides, and a bonus DVD will also be included. YAY! (True to You)
– And do you take great pride in knowing all there is about Mozzer's former band, The Smiths? If so, check out this fantastic covers quiz. (MOJO)
– Last Friday (February 18), Radiohead sated hungry fans with an early release of their eighth studio effort, The King of Limbs. Could another LP soon follow? (NME)
– And if you're still going absolutely bonkers for Thom Yorke's spastic moves set to Beyoncé's "Single Ladies (Put a Ring On It)" (watch here), there's plenty more mash-ups out there, including this little gem mixing in the The Benny Hill Show's classic theme, "Yakety Sax." (Pop & Hiss)
What are you listening to this week?
Read More
Filed Under: