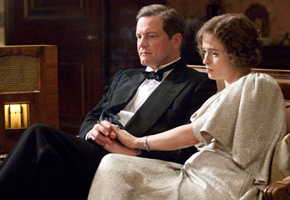 The King's Speech, the period drama about King George VI's struggle to overcome a stutter, won seven BAFTAs at yesterday's ceremony (February 13). Its haul included awards for Best Actor (Colin Firth), Best Supporting Actress (Helena Bonham Carter), Best Supporting Actor (Geoffrey Rush), Best Film, Outstanding British Film, Best Score, and Best Original Screenplay (David Seidler). The film's one major loss came in the Director category, in which The Social Network's David Fincher prevailed over Tom Hooper, director of King's Speech.
The King's Speech's dominance at the BAFTAs looks to be at least partially repeated at February 27's Academy Awards, where it will be the frontrunner for Best Picture, Best Actor, Best Original Screenplay, and Best Score. Bonham Carter and Rush's wins look a bit more iffy, with The Fighter stars Melissa Leo and Christian Bale tipped to win in the Supporting categories. (Notably, Leo was not even nominated for a BAFTA.)
As Leah Rozen explained in her piece earlier this week, BAFTA and Oscar don't always line up. Last year's winners, Firth and Carey Mulligan, failed to win Academy Awards. (The Oscars went to Jeff Bridges and Sandra Bullock.)
Oscar favorite Natalie Portman won Best Actress for her mentally and physically draining performance in Black Swan. The very pregnant star couldn't make the transatlantic trip to appear at the ceremony.
In addition to Fincher's Director gong, The Social Network picked up Best Adapted Screenplay and Best Editing.
The British public voted Inception star Tom Hardy as the winner of the Orange Wednesdays Rising Star award, which is given to a promising screen newcomer.
Sir Christopher Lee, best known as Dracula in the Hammer Horror film series, won the Academy Fellowship. Director Tim Burton presented the 88-year-old star with his honor. Here's his emotional acceptance speech:
http://www.youtube.com/watch?v=_dbtbk3V19A
Here's the full list of winners:
Academy Fellowship
Sir Christopher Lee
Outstanding British Contribution to Cinema
The Harry Potter Films
Best Film
The King's Speech
Outstanding British Film
The King's Speech
Outstanding Debut By a British Writer, Director, or Producer
Four Lions
Director
The Social Network – David Fincher
Original Screenplay
The King's Speech – David Seidler
Adapted Screenplay
The Social Network – Aaron Sorkin
Film Not in the English Language
The Girl in the Dragon Tattoo
Animated Film
Toy Story 3
Leading Actor
Colin Firth – The King's Speech
Leading Actress
Natalie Portman – Black Swan
Supporting Actor
Geoffrey Rush – The King's Speech
Supporting Actress
Helena Bonham Carter – The King's Speech
Original Music
The King's Speech – Alexandre Desplat
Cinematography
True Grit
Editing
The Social Network
Production Design
Inception
Costume Design
Alice in Wonderland
Sound
Inception
Special Visual Effects
Inception
Makeup & Hair
Alice in Wonderland
Short Animation
The Eagleman Stag
Short Film
Until the River Runs Red
Orange Wednesdays Rising Star Award
Tom Hardy
Read More
Filed Under: