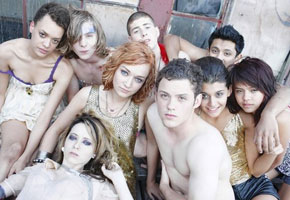 In the past month, we've been looking at a remarkable British Invasion of America's entertainment industry. Superman is now a Brit. American TV networks are gorging on British comedies and dramas. UK journalist Piers Morgan is the face of CNN. However, this onslaught of Britishness only highlights the huge differences between our two cultures, especially regarding our representations of our working classes.
It's almost a cliché: American TV is "aspirational," focusing on wealthy and the well-connected, while British pop culture is "gritty" and interested in the unglamorous details of working class life. The divide is most sharply marked in our TV soap operas. The extravagantly rich and beautiful populate American daytime television, a legacy of the lavish, hugely popular '80s sudsers Dallas and Dynasty. Conversely, British serials like EastEnders and Coronation Street peer in at the lives of the struggling denizens of grey England.
While the new remakes of Skins and Being Human were notable for their similarities to their British originals, the U.S. shows feel a bit more, well, posh. When Skins premiered in the UK in 2007, its kitchen-sink portrayal of working class teens in Bristol provided a palate cleanser from the gaudiness of American soaps like The O.C., on which adolescents were written as self-assured, mini-adults wielding Amex cards.
Perhaps adjusting to the U.S. market, MTV's Skins has absorbed a bit of the Gossip Girl DNA, featuring teens that read more "preppy" than "gritty." In his review of the new Skins, Entertainment Weekly's Ken Tucker wrote, "What disengaged me from the new Skins was that everyone looked so attractive and alert (even when the characters are supposed to be messy and wasted), so ready with a perfectly timed quip (even the characters who were supposed to be dim), that I didn't suspend my disbelief for a minute. This was not the case with the far more engaging British version, which, like much British TV, isn't afraid to cast actors who aren't ripped and lovely, and whose characters are permitted to mumble and be irritating, if that's what's called for."
In Salon this week, TV reviewer Matt Zoller Seitz expressed fears that Prime Suspect, the UK detective drama that starred Helen Mirren, would lose its earthy, reality-based, working class edge when NBC remakes the show for an U.S. audience. "American TV is averse to letting race, class, politics and other touchy elements drive stories because it might make viewers and sponsors skittish."
Is that a fair assessment? To quote that hero of the downtrodden and disenchanted, Bob Dylan, the times, they are a-changin.' NPR recently published a piece on the U.S. cable channel FX, lauding the channel's successful slate of working class dramas such as Rescue Me, Sons of Anarchy, and Justified. "Either by design or accident, FX has lined up a mighty array of working-class antiheroes. They are seriously flawed fellows scuffling and scraping for a living while trying to hold their unorthodox families together against the longest odds you can imagine," Eric Deggans wrote. Will FX help spark a trend? Can America follow Britain's example, holding a mirror up to our society-at-large and all of its socioeconomic diversity?
Read More
Filed Under: