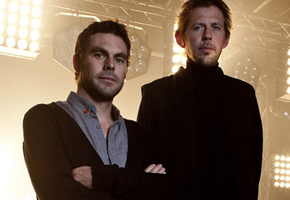 There are several opportunities for Brits to take home Grammys on Sunday (February 13). Florence and the Machine and Mumford & Sons are both up for Best New Artist, but to win, they must vanquish the 15-year-old Canadian, Justin Bieber. (I hope I'm wrong, but this category is Biebs to lose.)
The odds for a British winner are greater in the Best Electronic/Dance Album category, in which four out of the five nominees are UK-based. American electronic artist BT faces off with The Chemical Brothers, La Roux, Goldfrapp, and Groove Armada for the award.
What gives? Why do Brits dominate the dance floor? Tom Findlay, one half of Groove Armada, tells me that U.S. disco has continued to resonate with UK listeners long after bell bottoms went out of style. "Dance music has been embraced more warmly in the UK," he says. "It's been in our culture for 30 years. It has been dominant in British life for so long."
Findlay takes satisfaction that Euro dance sounds have infiltrated the mainstream; even hip-hop and grime artists like Dizzee Rascal and Tinie Tempah have embraced club beats. He admits that hearing the Black Eyed Peas doing electronica was "quite weird," but adds that the exposure "strengthens the underground. It makes dance feel relevant and has revitalized the scene."
Findlay and bandmate Andy Cato formed Groove Armada about 15 years ago, springing forth from Britain's chillout scene to become one of the most reliable party jam makers in music. To the casual American listener, they'd be most recognizable as the creators of the TV commercial staple, 1999's "I See You Baby." In hindsight, Findlay says that their willingness to license their songs to advertisers cost them industry respect. "Retrospectively, we said yes to some things that we shouldn't have said yes to. People might have seen us differently. But you're in the bubble. I never dared turned things down. Now we turn more things down."
GA's 2010 album, Black Light, was a critical breakthrough for the duo. "It was so unlike anything we'd done before, and I'm quite proud of it." However, he recalls that the recording of the record was fraught with "emotional angst" and "a general sense of creeping insecurity" because they made the record without a label.
Still, the sweeping, rock-driven LP provided Groove Armada a chance to work with some A-list collaborators, including newcomers like Jess Larrabee ("She was very feisty and had her own opinions") and veterans like Bryan Ferry. "I've never worked with anyone of that stature," Findlay says of the Roxy Music frontman, adding, "The first time we sat with him, he made us feel at ease." The result of their creative conspiring was the sexy "Shameless," a high point in both Groove Armada's and Ferry's careers.
Black Light may just be Groove Armada's last hurrah as a fully realized album, with Findlay suggesting the duo may move to a Robyn model of realize four- or five-song EPs instead of full-lengths. After the Grammys, the boys plan to do more DJ gigs stateside, with their next batch of tunes being "slightly more club-orientated." Right now, after the torturous recording of Black Light, Findlay and Cato have taken a bit of break to just chill. "We see very little of each other," Findlay admits. "He's in France. I'm in London."
Read More
Filed Under: