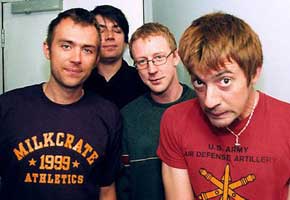 I know many of us longtime Britpop fans were thrilled to hear that Blur might "switch a tape recorder on," after guitarist Graham Coxon teased via Twitter that he and his Blur bandmates were getting together earlier this month.
We should be pleased that the London foursome are getting along, regardless if any material comes of it. Right? In the new issue of NME, Coxon sets the record straight on what's really been going on.
"Every now and then we like to meet up and record a few things," Coxon says. "We just do stuff when we feel like it."
He added: "I suppose it might turn into an LP in six years or something. Meeting up every now and then… maybe turning the tape recorder on and jamming around a few ideas."
Gah! I suppose we can deal with that. Late last spring, Blur did give us the delightful one-off single "Fool's Day" for Record Store Day. Perhaps they'll treat us with something similar later on.
For your Tuesday afternoon, here's a look back at Blur's brilliant 1999 performance of "Tender" on The BBC's Later… with Jools Holland. Enjoy!
Read More
Filed Under: