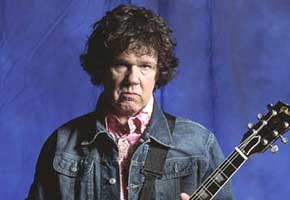 BBC News reports that Irish guitarist Gary Moore has passed away. He was vacationing in Estepona, Spain and found in his hotel room on Sunday (February 6). It's being said that Moore, who was 58, suffered a heart attack.
The Belfast-born Moore spent the last five decades crafting his blues-driven rock sound, most notably playing with Thin Lizzy throughout the '70s and '80s. He also had quite a prolific solo career, issuing 20 studio solo albums. "Parisienne Walkways" from his 1979 LP Back On the Streets and featuring Thin Lizzy vocalist Phil Lynott on vocals, landed in the UK Top 10.
Additionally, Moore played alongside blues greats like B.B. King and Albert King over the years, and collaborated with a host of other musicians such as Ginger Baker and the Beach Boys. In 1990, he delivered a roasting guitar solo on the Traveling Wilburys tune "She's My Baby," as featured on their Traveling Wilburys Vol. 3 album.
Ex-Thin Lizzy guitarist Eric Bell was understandably "in shock" over his friend's surprising death. He explained to The BBC on Sunday that Moore "was so robust, he wasn't a rock casualty, he was a healthy guy."
Sir Bob Geldof also praised Moore's talent and kindness, calling him "without question, one of the great Irish bluesmen" with a playing style that was "exceptional and beautiful."
Read More
Filed Under: