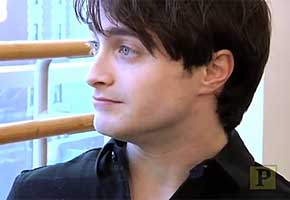 Now that the Harry Potter films have officially wrapped, Daniel Radcliffe has shifted his sights from Hogwarts to Broadway. The 21-year-old London-born actor, who first took to the New York City stage for 2008's Equus, is gearing up for the musical revival of How to Succeed in Business Without Really Trying. And he'll be showing off some fancy footwork in the role of J. Pierrepont Finch.
In an interview with Playbill.com, Radcliffe chats with the show's director/choreographer Rob Ashford about his lack of dancing skills. "I'm certainly an advert for anybody whoever says 'I cannot dance'," he says. "If you work hard enough, you get there."
Want a glimpse of what's yet to come? People has a few pre-show pics of DanRad and his co-stars John Larroquette and Rose Hemingway bustin' a move.
Read More
Filed Under: